Food Enzymes Market: Drivers, Restraints, Opportunities, Challenges
The global food enzymes market is projected to grow at a CAGR of 6.9% from 2018, to reach USD 3.23 billion by 2023
The report "Food Enzymes Market by Type (Carbohydrase, Protease, Lipase), Application (Beverages, Bakery Products, Dairy Products, Confectionery Products, Processed Foods), Formulation (Lyophilized Powder and Liquid), Source, and Region – Global Forecast to 2023″, The Food Enzymes Market Is Projected To Account for a Value of USD 3.2 Billion By 2023 With the increasing prevalence of diseases among consumers, manufacturers focus on offering high-quality food products that are nutrition-dense. In addition, retailers prefer accommodating shelves for food products with an enhanced shelf life. Due to the increasing demand for food products that are rich in nutrition and have extended shelf life, manufacturers are increasingly utilizing food enzymes. According to MarketsandMarkets, the food enzymes market is projected to account for a value of USD 3.2 billion by 2023, recording a CAGR of 6.9%.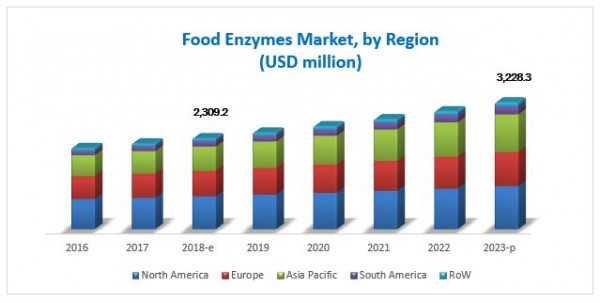 Download PDF Brochure: https://www.marketsandmarkets.com/pdfdownloadNew.asp?id=800
High reaction specificity
The use of enzymes in the food & beverage processing industry ensures the selective analysis of specific food constituents so that the time and costs can be reduced. Conventional use of chemicals requires time-consuming separation techniques, which affect an organization's budget. Enzymes are biocatalysts that bind substrates into their active sites in a compact and highly specific orientation, which guarantees that, of the many thermodynamically feasible reactions that can occur in the process, only a particular one is accelerated. This high reaction specificity of food enzymes also eliminates the possibility of undesired side reactions, which can compromise the safety of end products, which is ultimately for human consumption.
Restricted temperature and pH operational range
The action of food enzymes is largely influenced by the surrounding environmental conditions. A decrease in temperature causes the reaction rate to drop drastically, while thermal agitation denatures the food enzyme (deteriorates the food enzyme structure), thereby making it non-functional. Varying the pH outside the operational range of the food enzyme also reduces the enzyme activity, and can ultimately lead to permanent denaturation. Food enzyme manufacturers are striving to produce enzymes that can operate in a wide temperature and pH range; however, there is still a long way to go if enzyme use has to be universally implemented in all food & beverage manufacturing processes.
Innovative technological platforms
The global food enzymes market has many small-scale manufacturers trying to compete with the market leaders in terms of the application specificity of the food enzymes produced. This, in turn, is dependent upon the quality of production strain developed by manufacturers. Various technology licensors provide small-scale manufacturers with the opportunity to produce programmable enzymes, which can be scaled up to produce large volumes. Dyadic International Inc. (US) is one such licensor that provides its C1 platform technology to smaller players to produce large volumes of high-mobility food enzymes on-site.
Replacing traditional chemicals in various industries
Food enzymes have the potential to replace traditional chemicals used in the food & beverage industry. For instance, emulsifiers find about 70% of their applications in the baking industry. However, enzymes such as amylases, xylanases, and lipases are now replacing their use for better results such as uniform flour performance, improved crumb structure, enhanced dough stability, and longer shelf life. The harmful effects experienced by the use of chemicals can be reduced by using application-specific, side-effect-free food enzymes. The usage of food enzymes reduces waste and emission previously associated with chemicals.
Speak to Analyst: https://www.marketsandmarkets.com/speaktoanalystNew.asp?id=800
The Food Enzymes Market to Record the Fastest Growth in Asia Pacific Throughout 2023
In parallel to the growing population in various countries of Asia Pacific, the demand for different food products is projected to remain high. As manufacturers focus on catering to the increasing demand from consumers for high-quality food products in a shorter period, the market for food enzymes is projected to increase in this region over the coming years. In addition, rising awareness about the benefits of food enzymes is widening lucrative growth opportunities for manufacturers. On account of these factors, the market is projected to record the fastest growth in the region during the forecast period.
Leading players in the food enzymes market focus on adopting strategies such as acquisitions, new product launches, agreements, and expansions to improve their presence in the market. Some of the key players identified in the market include Associated British Foods (UK), Novozymes (Denmark), DSM (Netherlands), DowDuPont (US), and Chr. Hansen (Denmark).
Media Contact
Company Name: MarketsandMarkets
Contact Person: Mr. Shelly Singh
Email: Send Email
Phone: 1-888-600-6441
Address:630 Dundee Road Suite 430
City: Northbrook
State: IL
Country: United States
Website: https://www.marketsandmarkets.com/Market-Reports/food-enzymes-market-800.html