Oceans of Possibility: Mapping the Future of the Blue Economy
The world's oceans sustain life, industry and the environment. Advances in science and technology have transformed the maritime industry into one of the greatest drivers of global growth. The fast-evolving Blue Economy is expected to double to US$3 trillion by 2030.
At the heart of this acceleration is Shenzen, the Guandong Province innovation hub fast becoming the world's "Ocean City." The 7th annual China Marine Economic Expo, China's only national-level marine conference and trade fair, opened in Shenzen on October 15 with a letter from President Xi Jinping.
In the letter, read by Minister of Natural Resources Lu Hao, President Xi described the oceans as the "cradle of life" and called for an era of "blue cooperation" that benefits the people of all nations. How to achieving President Xi's vision is the focus of the International Marine Economy and Development Forum – one of the special highlights of this year's expo.
The forum, hosted by Shenzhen Municipal People's Government, organized by The China Council for the Promotion of International Trade Shenzhen Committee, held in conjunction with the expo, brings together 70 prominent thought leaders for strategic discussions on how to utilize, understand and protect the world's marine resources.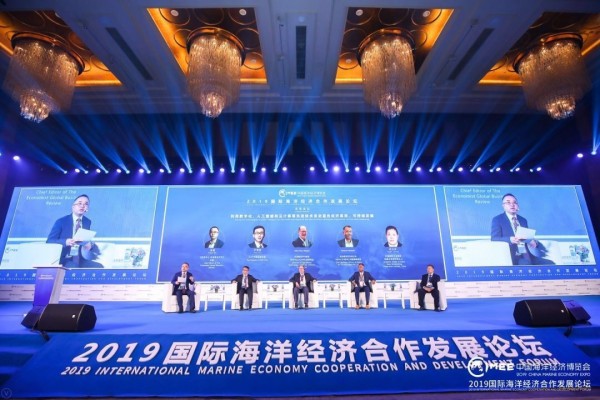 At the forum's opening ceremony, attended by more than 500 people, Vice-Mayor Wang Lixin said of his city: "Shenzen is poised for progress and this forum will help leverage its position to boost cooperation in the global marine economy."
The two-day forum is intended to generate actionable results. The opening plenary session explored how disruptive technologies are proving to be game-changers in the blue economy. The expert panel detailed how the complexity of the marine industry makes it essential for major companies, government institutions, and academia to collaborate on the use of artificial intelligence, automated vessels, cloud computing and integrated sensors.
Many examples were provided for how these technologies are beginning to be leveraged across the marine economy. As the forum continues other hot topics include marine tourism, sustainable fisheries, maritime safety and renewable energy, among many other issues and opportunities.
"Truly, the purpose of the forum is to understand how we can accelerate growth of the marine economy in the context of resource and environmental sustainability," said Claude Smadja, the president of Smadja & Smadja Strategic Advisory, the organizer of the forum.
"International marine cooperation is crucial – not only for feeding people, not only for fighting climate change – but for the future of mankind."
Media Contact
Company Name: Beijing Cexing Technology Co., Ltd.
Contact Person: Yang Ge
Email: Send Email
Phone: +86139 1199 9753
Country: China
Website: www.cimee.com.cn/index_en.html