VIEWPT VR180º NANO Camera Launches on Kickstarter
With double Fish-eye lens compatible with Google VR180 Specifications, the compact and affordable camera offers a 4k@30FPS video and live streaming quality for end-consumers
A new camera for end-consumers that matches affordability with 3D, 4K UHD and Google-compatible VR180 features is available from today on Kickstarter, through a new crowdfunding campaign live at "https://bit.ly/2ASqkVN".
Developed by VIEWPT Innovations, the VIEWPT VR180 NANO Camera captures video and allows for live streaming in 4K@30FPS and 1080P quality, having a double fish-eye lens that is compatible with Google VR180 Specifications. "Every aspect of this camera is designed to allow users to create a truly immersive and stunnin g video and live streaming experience with ultra-stable and ultra-defined footage. The camera is also compatible with any smartphone and with the apps that people use the most, such as YouTube, Facebook, and Instagram," stated Zack, one of the developers of the camera.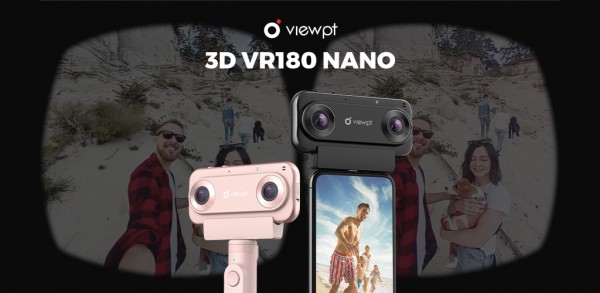 Unlike most other VR devices available on the market, the VIEWPT VR180 NANO Camera does not only capture VR videos but it also offers high-quality live streaming features. People can use the device as a stand-alone camera, or they can attach it and connect it to their phones or computers, which adds extra battery life to the camera, which nevertheless comes with a built-in battery for its independent usage.
Compatible with Google VR 180° format, the VIEWPT NANO double fish-eye lens reassure users that "they can capture on video and show, namely on live streaming, absolutely everything that they see, and not just parts of it, as most other cameras do," Zack detailed while highlighting the special features of this camera.
The camera comes with an isolated holder that allows users to connect the camera to a Type-C and lightning ports for an instant live streaming experience. The device is also built to be compact, durable and aesthetically pleasing.
Weighing less than 100 grams and having a width of 12.5 mm and a length of less than 100 mm, the VIEWPT VR180 NANO is as easy to use as it is easy to carry or store.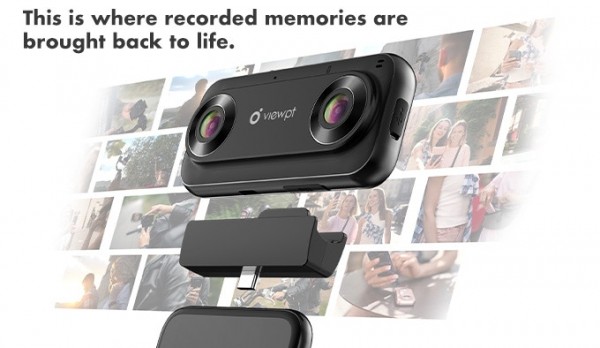 Its shell is built with aerial-class aluminum and its construction uses a CNC manufacturing technique paired with diamond cut chamfering design, and it is constructed to have good heat dissipation features to ensure that it does not overheat.
The VIEWPT VR180 NANO campaign is seeking to raise $80,000HKD on Kickstarter for the large-scale production of the camera, which currently has a fully developed and working prototype. In exchange for their support to the campaign at "https://bit.ly/2ASqkVN", crowdfunding backers can have early and discounted access to the VIEWPT VR180 NANO Camera.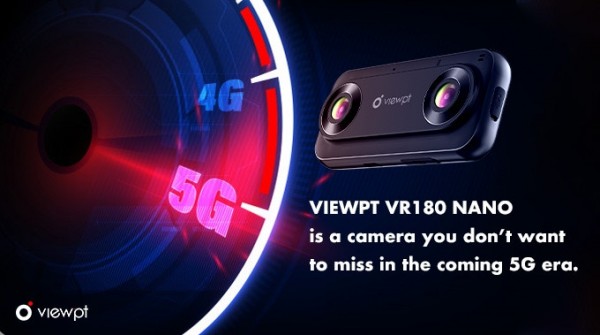 About VIEWPT INNOVATIONS
Founded in 2017, VIEWPT Innovations focuses on creating and offering truly innovation solutions for the imaging market with competitive AR(VR) products both for end consumers, professionals and businesses that require this technology. In 2018, VIEWPT Innovations successfully completed an angel round investment through which it raised several million RMB, thus getting access to capital that allowed it to further its research and development in VR products and application scenarization. Along with the VIEWPT VR180 NANO camera, the company is also in the process of developing a VR 180-standard binocular professional camera that features a resolution of 8k@30FPS.
For more information, please visit "https://www.kickstarter.com/projects/607993478/viewpt-vr180-nanoworlds-first-4k-vr-live-streaming-camera?ref=90gp3h" or contact Ben, on +86 13788899580 or at [email protected]
Visit: http://www.viewpt.io/
All the information on VIEWPT VR180 NANO can be found on the campaign page.
Media Contact
Company Name: SHENZHEN VIEWPT-Innovations Technology Co., LTD
Contact Person: Ben
Email: Send Email
Phone: +86 13788899580
Country: HongKong
Website: https://bit.ly/2ASqkVN