The 8th Annual POE: Tales of Fear & Suspense Opens October 25th at Clay Hill Farm Restaurant
He's baaaack! Local actor, Kirk Simpson, reprises his role as the Master of the Macabre, Edgar Allen Poe, for six shows at Clay Hill Farm Restaurant beginning Friday, October 25, at 6 p.m.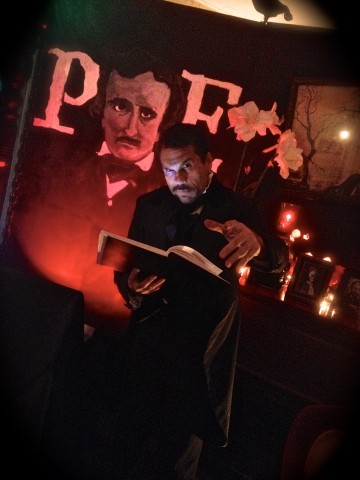 In POE: Tales of Fear & Suspense – a theatrical dining experience. Captivating audiences with his spooky-good dramatic readings, Mr. Edgar Allan Poe (Simpson) hosts an intensely up-close and personal, theatrical evening of delectable dining and sinister storytelling that is not to be missed.
While enjoying an a la carte dinner, fans of Poe's ghoulish "grimoire" will revel in Simpson's theatrical brilliance while he brings to ominous life such favorites as The Tell–Tale Heart, The Cask of Amontillado, and The Raven, weaving his way around the tables of an eerily claustrophobic setting in Clay Hill Farm's frighteningly-festooned Veranda Room. This is Simpson's seventh successful year performing POE: Tales of Fear & Suspense at Clay Hill Farm Restaurant, garnering rave reviews from sold-out shows each year. Simpson's mesmerizing theatricality as the dark and enigmatic Poe, coupled with a simple yet disturbing setting, will have lovers of both theater and the Master of the Macabre, on the edge of their seats.
Tickets are $20 per person, plus the cost of dinner. Performances are evenings at 6 p.m. on Friday, October 25, HALLOWEEN-Thursday, October 31st, Friday, November 1, and Friday, November 8th. Matinée performances are at 1 p.m. on Sunday, October 27th & November 10th.
Costumes are welcome and encouraged on Halloween. Seating is limited. Reservations are required.
Call 207.361.2272 or visit www.ClayHillFarm.com
Reimagining a career in the arts, Kirk Simpson, one of the founders of Clay Hill Farm Presents…, recently graduated from Maine College of Art where he received a Bachelor of Fine Arts in Graphic Design. Residing in So. Berwick with his partner Jim Winters, Kirk Simpson, with over 25 years of experience in graphic design and entertainment, has married his love of design and theater, working as a Freelance Graphic Designer with ksimpsondesign.com.
As an entertainer, Simpson has brought to life such greats as Charles Dickens, Robert Frost, Benjamin Franklin and Henry VIII, as well as a full cast of characters in his original, WHO? A One-Man Murder Mystery. Fresh from his successful reign as King Richard XI at King Richard's Faire- the longest running renaissance faire in New England, Simpson looks forward to reprising his role as the Master of the Macabre at Clay Hill Farm. His talents vary from musical theater, drama, comedy, interactive theatre, murder mysteries, choral singing, historical recreations, renaissance fairs, children's theatre, voice over, and so much more.
Clay Hill Farm is an award-winning restaurant and special event venue on 11 private acres in Cape Neddick, Maine. Clay Hill Farm is a proud supporter of the community, locally-sourced food and the arts, with a passion for offering an authentic Maine experience that transcends exceptional food and service.
Media Contact
Company Name: CLAY HILL FARM
Contact Person: Jennifer Lewis
Email: Send Email
Phone: 207-252-1444
Address:220 Clay Hill Road
City: Cape Neddick
State: ME 03902
Country: United States
Website: https://www.clayhillfarm.com/