V-Blanket – the world's first portable battery-powered heated blanket goes live on Kickstarter.com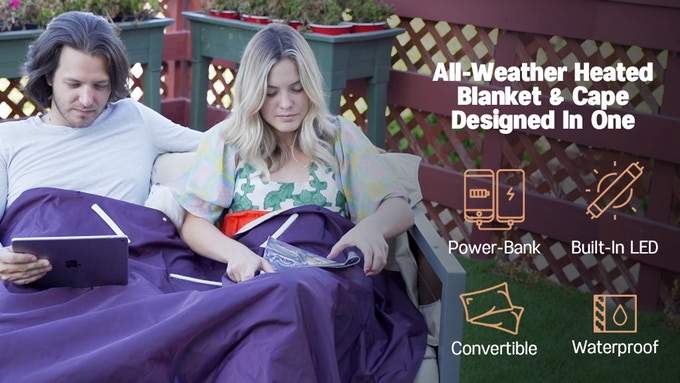 Innovative Cordless Heated Throw convertible, VBlanket, set to officially launch on Kickstarter.com to raise funds for the project
V-Blanker is the first of its kind portable battery-powered heated blanket that is designed to be easily convertible to a hooded cape. Makers of the innovative blanket are set to launch a fundraising campaign on Kicktarter.com with a goal of $8,000 to make the product available and help keep millions of people across the globe warm in winter.
One of the major challenges faced by people, particularly in the cold winter time is staying. It is even more challenging for lovers of outdoor activities to enjoy their time experiencing nature. While there are several solutions available from different brands coming up with a number of solutions to keep customers warm, many of such products do not meet the needs of users. Traditional heated blankets have bulky components and tangling cords that can easily mar the user's experience. V-Blanket is, however, looking to change the narrative by providing a convenient, portable, and easy-to-use solution to keep the human body temperature warm and allow users to enjoy their outdoor experience even in the winter.
The innovative Heated Throw is designed to be as close to the skin as possible, ensuring optimal performance. The blanket is a result of 18 months of hard work and is made using Carbon Fiber knit into the knitted fabric using a revolutionary technology which makes it imperceptible, offering a more stretchable, more breathable, softer, and more comfortable solution that brings heat quickly and directly.
One of the striking features of the heated blanket is its easy convertibility to a hooded cape, letting users stay calm while moving freely in any season. Other amazing features of VBlanket include temperature control, multi heating zones, instant warmth in 5 seconds, long-lasting heat, and LED lights sewn on both chest and back of the cape for reading, camping, cycling.
Weighing 1.5lb, the lightweight, waterproof, windproof, and anti-static blanket can be powered by any type of USB external battery pack and comes with a built-in female USB-A connector to charge any mobile device. The features of the blanket make it ideal for outdoor sporting events, untethered use on the couch, or chilly airplane cabins.
The blanket is not only easy to use and can be easily maintained as it is both machine and hand washable.
For more information about VBlanket and how to be among the first owners of the first-ever battery-powered heated blanket, please visit the campaign page on Kickstarter.com.
Media Contact
Company Name: VBlanket
Contact Person: Support
Email: Send Email
Country: United States
Website: https://www.kickstarter.com/projects/9327152/vblanket-cordless-heated-throw-convertible-to-a-hooded-cape?ref=986xho&token=11dc6d22