SMASH RX IS THE FIRST AND ONLY RAGE ROOM TO INCORPORATE A THERAPUTIC ASPECT IN SOUTHERN CALIFORNIA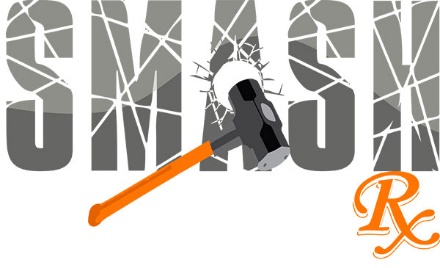 New Rage Room Introduces Destructotherapy That is Changing the Mental Health Landscape
Westlake Village, CA – September 13, 2019 – Smash RX announces today that they will be the first "Rage Room" to open in Southern California to incorporate licensed mental health, anger management, and stress management services. Along with licensed therapy work, the company offers recreational smash services, a perfect activity for families, date night, a day with the friends, team bonding, corporate outings, or simply taking a moment to yourself to have some fun. Business is set to open, September 28, 2019 in Westlake Village, California.
Smash Rx has coined the term Destructotherapy, Destructotherapy is a recently developed therapeutic practice that helps relieve stress by using direct aggression against inanimate objects. Should you participate, you will be equipped with safety goggles, clothes, and your choice of destruction tools like bats, sledgehammers, crowbars, hammers and more to be used against a room full of breakables. Smash Rooms provide a safe, fun environment for anyone who's experiencing very normal feelings of anger, sadness, anxiety, depression, or stress to release these feelings acceptably. Not to mention it's just good ol' fun!
"My goal is to make Smash Rx one of the seven clinically approved alternative interventions to talk therapy. We have yoga, sun therapy, and even nature therapy. It is time for the clinical community to embrace the holistic benefits of Destruction Therapy." Yahsica Budde, Founder and CEO of Smash Rx who is a California licensed Marriage and Family Therapist (MFT).
It will only take one session at Smash Rx to find out how and why a therapy can be so much fun. The philosophy of Smash RX is to talk less and smash more. For more information, please visit the website at: www.SmashRXLLC.com.
Smash Rx is the first "Rage Room" in Southern California to incorporate a therapeutic aspect. Their mission is to create a safe and healthy outlet to release every day normal stresses while breaking down the stigmas surround mental health. The facility is set to open September 28, 2019 in Westlake Village, California.
Media Contact
Company Name: Smash RX, LLC
Contact Person: Yashica Budde
Email: Send Email
Phone: (818) 807-6274
Address:31225 La Baya Dr., Suite 115
City: Westlake Village
State: CA, 91362
Country: United States
Website: www.smashrxllc.com