Rodnesha Ross, Curator of Pray Hustle Slay releases a fashionable travel luggage set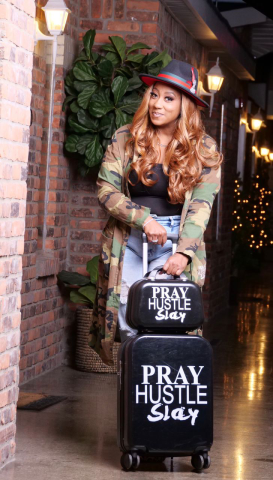 Rodnesha Ross, Curator of Pray Hustle Slay, has released a fashionable travel luggage set, that will keep the neck and shoulder free of pain while traveling with wheeled carry-on luggage. Originating as a self-care essential line, Ms. Ross of Pray Hustle Slay created this company with a vision in mind to show others how to carve out time for themselves to maintain a healthy mind set, by utilizing self-care products and techniques. With this expansion in place, Ms. Ross and her team are looking forward to the travel luggage set to do very well across various zip codes.
"Being a mogul that travels frequently, I didn't want the stress of shoulder and neck pain while walking through the airport or boarding the plane. In my lifestyle I'm constantly taking care of business and I needed a convenient way to travel with ease, all while being fashionable," says Ms. Ross.
Aiming to help their fashionista travelers, commute stress free, the Pray Hustle Slay luggage set will become a traveler's go-to luggage for quick trips, overnight stays, and weekend getaways with its fun features, including:
Lightweight yet extremely durable abs material.
Upgrade With TSA-Accepted Lock for security and peace of mind.
Sturdy ergonomic aluminum telescoping handle
Interior mesh zip pocket and elasticated, Squared full-capacity design
360-degree silent spinner wheels that ensure smooth sailing throughout airport walkways.
The Pray Hustle Slay travel luggage set is fashionable, innovative, durable, and sleek. It retails for $150 at http://www.prayhustleslay.com and this product is distributed locally from Detroit. High-res images are available. Brand Ambassadors in Detroit, Chicago and Atlanta are needed and interested parties can email: [email protected] for more information.
Since it is close of Mental Health Awareness Month, Ms. Ross of Pray Hustle Slay will donate a portion of the proceeds from each sale to a company that supports mental health community projects for youth and families.
Pray Hustle Slay was established in 2017, curator/CEO Rodnesha Ross, she created this lifestyle brand of apparel and self-care essential line to promote healthy mental health awareness. This company was created solely to remind others of the necessity to always carve out time for themselves. "We are no good to anyone else if we don't take care of ourselves first," says curator Rodnesha. Another cool thing about her business is she hires youth & teenage Moms interns from Queens Small Business Career Academy to learn about the business and one day have a position at her company as an employee.
www.prayhustleslay.com | Social Media: Facebook & Instagram: @shopprayhustleslay
Media Contact
Company Name: Pray Hustle Slay
Contact Person: Media Relations
Email: Send Email
Country: United States
Website: prayhustleslay.com