British Psychologist Lee Chambers speaks at first Black Mental Wellness Summit.
The first Black Mental Wellness Summit attracts over 2000 guests and is a roaring success.
We spoke to keynote speaker Lee Chambers, psychologist and entrepreneur about groundbreaking event.
The first Black Mental Wellness Summit, created to celebrate Black Mental Wellness Day, was a great success as the full day event came to a close on the last Saturday. With over twenty speakers in attendance from a wariety of countries, the day spanned 12 important topics that impact the black community and their mental wellbeing. From the workplace to healthcare to communities, no area was left without a discussion to open the conversation on action that needs to be taken to address inequalities.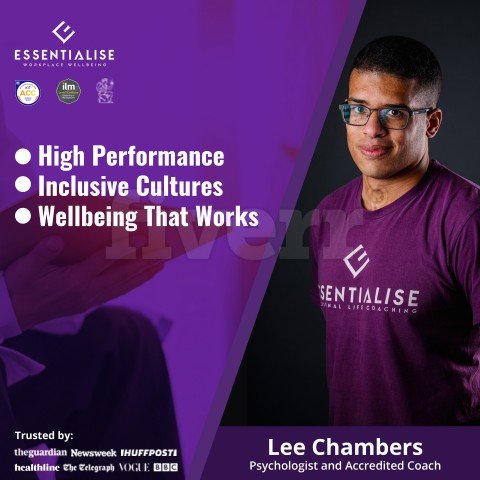 The event, hosted on the audio based app Clubhouse, saw over 2000 attendees over the 8 hours of broadcasting. Resources have been shared free of charge, and a number of speakers engaged to bring the topics to life through lived experience, industrial knowledge and medical and societal expertise. The speakers on the day included Denise Nurse, renown entreprenuer, Carlton Cole, former Premier League footballer, and Lee Chambers, award winning psychologist. They spoke on a various topics alongside dedicated medical professionals.
Lee Chambers, founder of Essentialise, said, "It was an honour to be chosen as a keynote speaker for the inaugural event, and I'm so glad it was well recieved. With my work covering both wellbeing and inclusion, and as a biracial male myself, I had the chance to share my insights while learning from other speakers and guest. The event ran seamlessly and I will happily speak again next year."
With the Black Mental Wellness Summit being a success, the organises have advised that there will be upcoming physical events taking place in the UK later in the year.
Media Contact
Company Name: Press Release UK
Contact Person: PR Director
Email: Send Email
Phone: 01772 846144
City: Preston
State: Lancashire
Country: United Kingdom
Website: https://www.podchaser.com/users/leechambers