Perfect Memorials Develops Small Gardening Cremation Urn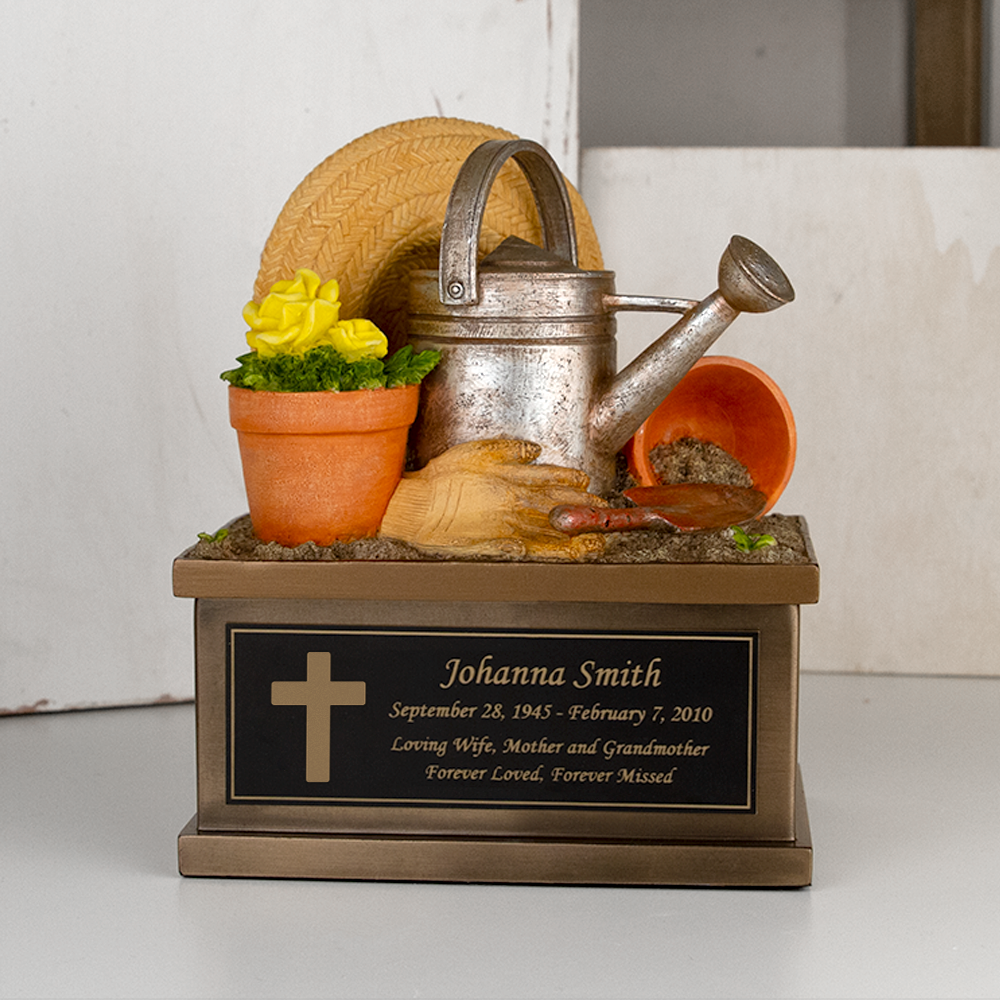 Perfect Memorials has added a Small Gardening Cremation Urn to its Heavenly Creations Cremation Urn line.
Perfect Memorials, the leading online retailer of premium quality memorial products, has announced they have added a new Small Gardening Cremation Urn to their ever-expanding line of Heavenly Creations Cremation Urns.
Perfect Memorials' new Small Gardening Cremation Urn features a charming array of gardening tools. The precise details, from the rust on the watering can to the petals on the flowers, all contribute to complete the urn. All the pieces are thoughtfully placed on top of a base that imitates a bed of dirt. Inside the base of the urn is an inner compartment where the cremains are placed. It can be accessed from the bottom through a removable panel with screw closure. To prevent scratching on other surfaces, the entire bottom panel is covered in soft, black felt. The compartment can hold 60 cubic inches of cremains and is designed with a rubber gasket seal that will securely fit the removable panel. All Heavenly Creations urns by Perfect Memorials are made from a cold-cast resin that is very durable and resists fading from UV light.
The Small Gardening Cremation Urn is currently available with introductory pricing starting at $110.95, with a price match guarantee. Optional plaque engraving of text, artwork, and poems are available for an additional cost. All Perfect Memorials products are offered with free ground shipping and priority shipping is available at an additional rate.
About Perfect Memorials:
Perfect Memorials is one of the premier suppliers of high quality and affordable memorial products. Their list of memorial products offered includes cremation urns, cremation jewelry, pet urns, outdoor memorials, and many other types of personalized and custom-made memorial products. Perfect Memorials offers the largest collection of memorial products in the world, exceeding over 13,000 premium-quality items in its catalog. In addition to having the largest selection in the industry, Perfect Memorials boasts over 30,000 customer and product reviews. They offer free ground shipping with no minimum order to anywhere in the continental United States and a rock-solid best-price guarantee on all of their products.
Media Contact
Company Name: Perfect Memorials
Contact Person: Haley Murry
Email: Send Email
Phone: 800-979-8767
Country: United States
Website: www.perfectmemorials.com