PerkWiz Rewards Launches, Offers Great Discounts For Retailers Nationwide
Saving Users Up to $1,200 at Retailers Nationwide
PerkWiz is excited to launch a new rewards program called PerkWiz Rewards, which will help consumers in the United States and Canada save money on their existing spending habits at many large brands including but not limited to McDonalds, Starbucks, Dunkin Donuts, Nike, Hilton and Marriott. PerkWiz Rewards offers valuable discounts from entertainment venues, top restaurants, shopping, and travel destinations — in addition to other perks.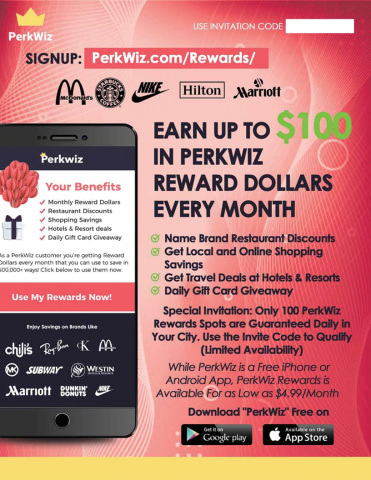 PerkWiz itself is a free app for both Apple iPhone and Android users, enabling consumers to find hourly specials, deal vouchers and memberships in their local area. However, PerkWiz Rewards is a special upgrade giving consumers up to $1,200 per year in reward dollars. The cost to participate in the PerkWiz rewards program starts with silver at $4.99 per month and the highest being the platinum at $12.99 per month. Users can join PerkWiz Rewards today and begin redeeming their rewards on the same day.
Built for use on a desktop or mobile phone for both individuals and businesses, users are ensured flexibility and ease of use. As a PerkWiz rewards customer, you'll be getting Reward Dollars every month that you can use to save in 500,000 ways, which include Monthly Reward Dollars, Restaurant Discounts, Shopping Savings, Hotel & Resort Deals, and Daily Gift Cards Giveaway.
"There are numerous rewards programs out there, but only a few truly live up to people's expectations in terms of quality of rewards and ease of redemption. PerkWiz Rewards has valuable rewards that can benefit the majority of consumers" said a spokesperson for the company.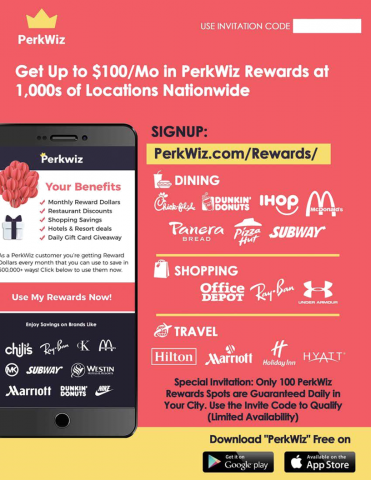 PerkWiz Rewards is easy to join and includes no hidden fees or long term contracts. PerkWiz Rewards is excited to be putting cash back into people's pockets.
The PerkWiz rewards management team is led by a brain trust of professionals with in-depth knowledge of how to reward program works. To start earning rewards immediately, please go to https://perkwiz.com/rewards/
About PerkWiz Rewards
PerkWiz Rewards bring an affordable, world-class discount and savings program to individuals, that typically have not had access to them through traditional channels. They are a Delaware-based company that allows people tosave up to 80% at local restaurants, cafes, gyms, spas, and more. With PerkWiz, people can easily make reservations with hourly specials, join exclusive memberships, and find unique deals and other perks.
PerkWiz enables businesses to create a free account and list their deals at http://perkwiz.com/business

Media Contact
Company Name: PerkWiz.com Rewards
Contact Person: Manager
Email: Send Email
Phone: +1-929-292-9779
Address:919 NORTH MARKET STREET
City: Delaware
State: DE 19801
Country: United States
Website: PerkWiz.com/rewards