New adventure game "3 Minutes to Midnight" receives a great response on Kickstarter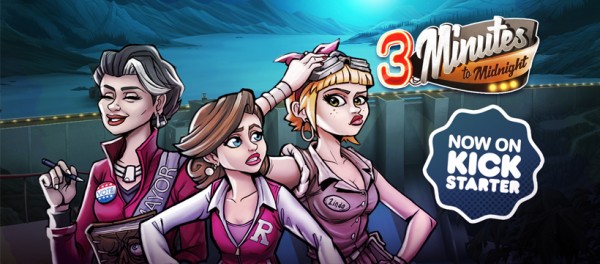 3 Minutes to Midnight, an adventure game developed by Scarecrow Studio is receiving a great response on Kickstarter raising over $47,000 so far and nearing its funding goal of $56,000. The project has been supported by over 580 backers from around the world and it must reach its goal to be funded by November 8th. What makes this game stand out is its amazing gameplay where every action has its own consequences and each puzzle has wildly different solutions. The game has over 15 hours of gameplay, breathtaking environments, charismatic art, and colorful cast of characters, each of whom has extensive dialogues and intricate backstories.
3 Minutes to Midnight allows the player to play as both plucky teenager Betty Anderson and the ambitious and diplomatic mayor Eliza Barret as they unravel a mystery in a small town in New Mexico. The story of the game is set in the 1940s where a sudden explosion shatters the night and wipes off the memories of everyone in town. Betty has a lot more to worry about than amnesia, like a top-secret military base, a town full of people who aren't what they seem, the mafia, and a potbellied pig with a vendetta. Then there is the doomsday countdown going on, which may cause human extinction. Betty will unravel all these and many more mysteries as the player progresses in this game that starts with a bang and ends at three minutes to midnight.
All the characters in the game have a detailed backstory with clever and unexpected ties to each other. The game features over a thousand interactable objects, so the players will be able to use their creativity to figure out many different solutions, and the largest script in the history of point and click games. The player's decisions can affect the outcome of the game and the ending that they reach, which means this game offers large amounts of replay value! While on subsequent playthroughs of the game, players will be able to find hidden dialogues, events, and even characters, which they didn't previously discover. Those who know about or have played 'Black Mirror: Bandersnatch', an interactive film with multiple endings, will know how fun and exciting this can be.
The developers have also given utmost emphasis on making the game's controls as smooth as possible, as well as designed a beautiful and highly usable user interface. Additionally, the game possesses and elaborate hint system for those in need, over 5000 lines of item-related dialogue, carefully constructed easter eggs, plenty of hidden references, and a rich cast of over 50 characters aside from Betty and Eliza, all of them with amazingly expressive faces and bodies.
The gamers have the chance to pre-order 3 Minutes to Midnight at a special price by selecting one of the rewards on the Kickstarter campaign page.
Media Contact
Company Name: Scarecrow Studio
Contact Person: Press Executive
Email: Send Email
Country: Spain
Website: scarecrow-studio.com