Agricultural Microbials Market Size, Share, Growth, Trends, and Forecast – 2022
The agricultural microbials market is projected to reach USD 6.01 Billion by 2022, at a CAGR of 14.21% during the forecast period.
The report "Agricultural Microbials Market by Type (Bacteria, Fungi, Virus, and Protozoa), Function (Soil Amendment and Crop Protection), Crop Type (Cereals & Grains, Oilseed & Pulses, and Fruits & Vegetables), Mode of Application, Formulation, and Region – Global Forecast to 2022″, Biological and organic farming are emerging into the agri-food mainstream. As the preference for nutrient-dense and FDA-certified crops remains high in retail stores, farmers focus on utilizing effective crop protection products such as agricultural microbials. In addition, retailers prefer accommodating shelves with high-quality produce to expand their customer base. This further encourages farmers to seal the majority of their crops with high nutrition quotient for increased sales and profits. Focus on allocating the majority of their cultivation field to high-quality produce has led to a surge in demand for agricultural microbials. According to MarketsandMarkets, the agricultural microbials market is projected to account for USD 6.0 billion by 2022, recording a CAGR of 14.2%.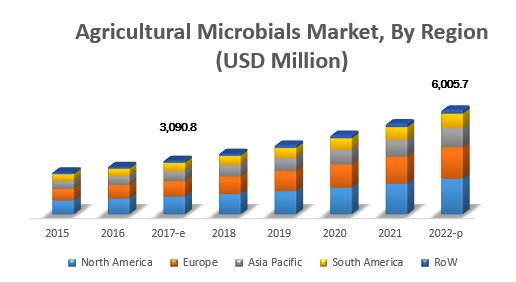 Download PDF Brochure: https://www.marketsandmarkets.com/pdfdownloadNew.asp?id=15455593
Rise in adoption of integrated pest management (IPM) practices across the globe
Over the last five decades, IPM has become the recognized strategy for crop protection, globally. IPM involves effectual control of pests through several compatible, integrated, cost-effective, and eco-friendly methods. It is considered a principal component of sustainable agricultural practices. The biological method of pest control is an important component of IPM. Biopesticides reduce the usage of conventional pesticides, while at the same time promote higher crop yield with effective pest control. It is an essential component in the production of various greenhouse crops. The market share earlier held by synthetic crop protection is gradually being replaced by biopesticides, which contribute to the growth of this market.
The continuous and extensive use of modern crop protection products to eradicate or reduce pest infestation and the loss caused by them has led to the development of resistance to the effect of crop protection products among pests. This resistance can be classified as metabolic resistance, target-site resistance, penetration resistance, and behavioral resistance. Biopesticides, mostly microbial pesticides, are used as an effective tool in IPM programs for management of pest resistance to conventional chemical pesticides.
Microbial pesticides also reduce environmental and worker exposure to synthetic pesticides. Nematode pest management, through the usage of microbial agents, is being recognized as a promising area in the current scenario of IPM practices. The renewed emphasis on IPM as a component of agricultural policy in regions such as Europe has also led to changes in the way biopesticides are regulated.
Shorter shelf life, field persistence, and storage conditions of microbial pesticides
Agricultural microbial products mostly contain living, viable material; hence, they have a shorter shelf life as compared to conventional chemical products. For example, Bacillus thuringiensis (Bt) has a shelf life spanning from 6 months to 2 years, whereas conventional pesticides have a shelf life ranging from 2 to 4 years. On the production and distribution end, the shelf life is dependent on some factors such as manufacturing technology, carrier, packing material, mode of transport, and distance.
The survival of microorganisms during storage is a major problem in agricultural microbial products. The seasonal and unpredictable nature of pesticide demands requires effective storage centers, which includes specific handling and transportation facilities, which are not possessed by shopkeepers, producers, and farmers.
Microbials are also easily affected by various biotic and abiotic factors in farm fields, as they are naturally occurring organisms. This directly affects their efficacy in the field, which can become low or inactive. This serves as a restraint for the market.
Speak to Analyst: https://www.marketsandmarkets.com/speaktoanalystNew.asp?id=15455593
Large-scale investments in R&D by major players for the development of new products
Among biologicals, the agricultural microbials market has the presence of the largest number of companies. A number of multinational companies are actively focusing their efforts toward the development of novel microbial solutions for numerous crop diseases and pests that affect the salability of crops.
These companies are using both organic and inorganic strategies such as the establishment of new R&D facilities or upgradation of existing facilities for the discovery and development of new microbial strains. For instance, in 2017, BASF SE expanded its business by setting up a new manufacturing facility in Saskatoon, Canada for biological inoculant production. In 2016, the company established a new R&D center in Limburgerhof, Germany for facilitating research in the field of biological crop protection and seed solutions.
Inorganic strategies such as partnerships and agreements are also actively being used for the same purpose. For instance, in 2016, Bayer AG and Forschungszentrum Juelich (Germany) entered into a research collaboration named Phenotyping for Products. This collaboration was expected to study the process by which microbial seed treatments affect the root growth and colonization of the root system by microbes. In 2015, Syngenta partnered with DSM to develop and commercialize biological solutions for agriculture, including biocontrol, biopesticides, and biostimulants.
Media Contact
Company Name: MarketsandMarkets
Contact Person: Mr. Shelly Singh
Email: Send Email
Phone: 1-888-600-6441
Address:630 Dundee Road Suite 430
City: Northbrook
State: IL
Country: United States
Website: https://www.marketsandmarkets.com/Market-Reports/agricultural-microbial-market-15455593.html