Seed Treatment Market: Global Industry Analysis, Growth, Size, Share, Trends, and Forecast to 2022
The seed treatment market is projected to grow at a CAGR of 10.82% from an estimated value of USD 6.76 Billion in 2017 to reach USD 11.31 Billion by 2022
The report "Seed Treatment Market by Type, Application Technique (Coating, Dressing, Pelleting), Function (Seed Protection (Insecticides, Fungicides) and Seed Enhancement), Crop Type (Cereals & Grains, Oilseeds & Pulses), and Region – Global Forecast to 2022″, The seed treatment market is projected to grow at a CAGR of 10.82% from an estimated value of USD 6.76 Billion in 2017 to reach USD 11.31 Billion by 2022. The market is driven by factors such as the rise in demand for low-cost crop protection solution, precise targeted application of pesticides, and the impact of these pesticides in achieving sustainable agriculture.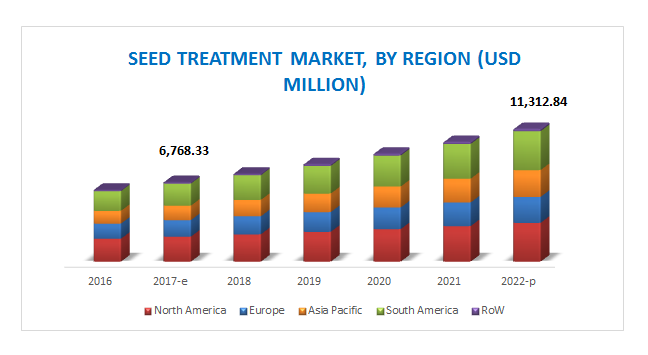 Download PDF Brochure: https://www.marketsandmarkets.com/pdfdownloadNew.asp?id=503
Seed treatment as a low-cost crop protection solution
Seed treatment is one of the most popular chemical crop protection methods available today. It provides better crop establishment, that is, healthy germination and protection against seed-borne and soil-borne diseases at a relatively low cost than spraying, thereby ensuring the salability of the harvest. A relatively small amount of active ingredients is required to protect the seedling against a wide variety of fungal diseases and pests.
With rising concerns regarding crop protection, productivity, and yield, expenses on crop protection have significantly increased. Crop protection is the second-highest expense after fertilizers in farming. These expenses can be reduced through seed treatment as the volumes required are less as compared to foliar or furrow application. Due to the limited seed surface area, not only are the active ingredients required in limited quantities, but also are effective enough to control early seed diseases to a large extent. As compared to surface application of crop protection products, the loss is significantly reduced by 99% with the help of seed treatment.
Also, genetically modified (GM) seeds with target protection against specific pests are found to be more expensive than seed treatment. Hence, seed treatment is a more cost-effective solution than using GM seeds for crop protection in highly regulated GM countries.
Government regulations
Companies offering seed treatment products are required to comply with different regulatory guidelines, globally. Crop protection products, including the ones used for seed treatment, require several approvals by different regional bodies before they can be commercialized and made available for public usage. Although there are very specific legislatives to regulate the marketing of commercial seeds and crop protection products, seed treatment products are not governed by any distinct laws. In most countries, seed treatment products follow the same registration process as other conventional agrochemicals. Biological active ingredients, especially biopesticides, are considered under crop protection, and similar regulatory procedures are adopted to enter the market for commercialization.
For example, The Fertilizers Act and Regulations stands as the federal legislation governing the sale and importation of fertilizer and supplement products in Canada. In this case, supplements include any substance or mixture of substances that are used to improve the physical condition of the soil or to aid plant growth and crop yield. However, no specific regulatory guidelines or testing procedures are laid down for biofertilizers utilized in seed treatments, which make it all the more challenging for companies to launch new products. Additionally, the R&D investment risks involved in the development of effective microbial strains can result in limited product launches in the next five years. Longer registration periods and product approvals for chemical ingredients in European countries can also impact the product innovation process in the sector. In countries such as Brazil and the US, the product registration costs, approval time periods, and data requirements are acceptable enough for market players to launch their new products.
Speak to Analyst: https://www.marketsandmarkets.com/speaktoanalystNew.asp?id=503
Innovative combination of products
With growth in R&D associated with seed treatments, there have been various positive product evolutions that can enter the market in the next five years. Manufacturers of seed treatment products have come up with innovative combinations of these products, which could be extremely beneficial for crop yields, both qualitatively and quantitatively.
For instance, the Poncho/VOTIVO product from Bayer Seed Growth is a biological seed treatment for corn and soybean crops and is a combination of a systemic chemical insecticide and biopesticide that provides protection against nematodes. Another multicomponent product launched in the market is BASF's Vault HP plus Integral, which helps in maximizing nitrogen fixation and improving crop yield. In addition to the rhizobium inoculant, the product is also treated with a biofungicide, which helps in crop protection.
These combinations of chemical-biological and biological-biological components can be marketed and distributed to farmers in a customized way depending on the crop to be harvested and the soil conditions. Manufacturers such as Bayer and Syngenta have been developing biological seed treatment products based on crop growing conditions at the regional level. These customized services are expected to develop strong market inroads in the commercialized seeds industry in the next five years.
Media Contact
Company Name: MarketsandMarkets
Contact Person: Mr. Shelly Singh
Email: Send Email
Phone: 1-888-600-6441
Address:630 Dundee Road Suite 430
City: Northbrook
State: IL
Country: United States
Website: https://www.marketsandmarkets.com/Market-Reports/seed-treatment-market-503.html