Probiotics Market Size, Share, Trends, Industry Overview, and Forecast – 2023
The probiotics market is estimated to grow at USD 49.4 billion in 2018 and is projected to grow at a CAGR of 7.0% from 2018, to reach a value of USD 69.3 billion by 2023.
The report "Probiotics Market by Application (Functional Food & Beverages (Dairy Products, Non-dairy Beverages, Infant Formula, Cereals), Dietary Supplements, Feed), Ingredient (Bacteria, Yeast), Form (Dry, Liquid), End User, and Region – Global Forecast to 2023″, customers are increasingly becoming aware of the various factors that influence their digestive health. Immune deficiency and lack of perforin lead to viral infections that can weaken the gut health of consumers. As various digestive health issues continue to persist, manufacturers focus on offering effective solutions in the market, such as probiotics. According to MarketsandMarkets, the probiotics market to be estimated at USD 69.3 billion by 2023, recording a CAGR of 7.0%.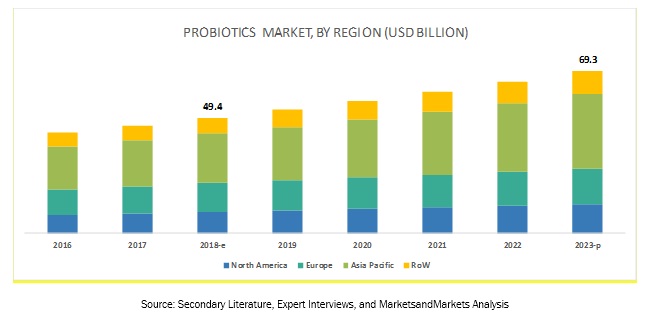 Market Dynamics:
Health benefits associated with probiotic-fortified foods
Health awareness among consumers is on the rise, wherein most consumers are constantly in search of healthy food products for daily consumption. Probiotics have proven strong health benefits, more specifically to the human digestive system.
These are found in supplement form or as components of foods & beverages. Their integration with inexpensive health foods, such as yogurt, fruit juices, and cultured dairy drinks has contributed to a significant market size.
Download PDF Brochure: https://www.marketsandmarkets.com/pdfdownloadNew.asp?id=69
High R&D costs for developing new probiotic strains
Substantial investments in R&D activities and investments in laboratories, research equipment, and high cost of hiring trained professionals create barriers for the development of the probiotics market. The scientific validation regarding the usage of probiotics in their applications becomes a success to this market. Probiotics applications are linked with health benefits, which make it challenging for manufacturers to get an adequate return on investments on high initial investments. Key companies such as Chr. Hansen (Denmark), Danone (France), Yakult Honsha (Japan), and Nestlé (Switzerland) have concentrated their strategies on building a strong R&D base to gain a competitive advantage, which has created a barrier for other players in the probiotics market.
Probiotic strains and products are developed and produced as per the international food regulations. Due to the high cost of production, the cost of the final product is also high. Marketing and distribution of these products also add to the product price, as they require different packaging and distribution channels as compared to common products. Though consumers are aware of the health benefits of probiotics, their high prices are restraining them from buying the product, which is a challenge for manufacturers.
Ban on the use of AGPs (antibiotic growth promoters) in feed in the EU
In 2006, the EU implemented a ban on the use of antibiotics in feed. AGPs are chemicals/drugs that are added to feed to improve the growth and quantity of animal produce. According to the EU, the use of these drugs led to the development of antibiotic-resistant microbes to treat infections in humans and animals.
Antibiotic residues in meat and other animal products affect human health. The human body becomes susceptible to diseases when antibiotic-resistant microbes enter the system, resulting in a weaker immune system. Along with the EU, the FAO has also restricted the use of antibiotics in feed. Such actions have opened up huge investment opportunities for probiotic manufacturers as feed manufacturers are exploring alternatives to enhance product quality.
Thus, the health benefits offered by probiotics make them a preferred alternative to antibiotics for feed manufacturers.
The bacteria segment is projected to dominate the market during the forecast period
The most widely consumed bacteria strains are Lactobacilli, Bifidobacteria and Streptococcus Thermophilusthermophilus, among others, which include Enterococcus, Bacillus, and Pediococcus. The primary benefit of incorporating scientifically derived bacterial strains in probiotic foods is the balance in the host's intestinal microbiota and the subsequent enhancement of the immune system. Lactobacilli are a genus within the lactic acid bacteria group, which have been proved to exhibit probiotic beneficial properties. Lactobacillus is used for skin disorders such as fever blisters, canker sores, eczema (allergic dermatitis), and acne. It is also used for high cholesterol, lactose intolerance, Lyme disease, hives, and to boost the immune system.
Speak to Analyst: https://www.marketsandmarkets.com/speaktoanalystNew.asp?id=69
Asia Pacific Projected to Be a Leading Region in the Probiotics Market During the Forecast Period
The increasing population of health-conscious consumers and growing preference for dairy products and functional food products have widened the scope of growth for key players in the Asia Pacific. Companies are offering a range of probiotic products that help to strengthen the gut microbiome and improve the digestive health of consumers. Also, leading players such as Yakult Honsha, Chr. Hansen, Danone, and Nestle are operating in the region, which reflects positively on the growth of the probiotics market during the forecast period.
Key players in the probiotics market are focusing on adopting strategies such as partnerships, new product launches, collaborations, and agreements to enhance their brand presence in the market. Some of the leading players identified in this market include DowDuPont (US), Yakult Honsha (Japan), Danone, Chr. Hansen (France), and Nestle (Switzerland).
Media Contact
Company Name: MarketsandMarkets
Contact Person: Mr. Shelly Singh
Email: Send Email
Phone: 1-888-600-6441
Address:630 Dundee Road Suite 430
City: Northbrook
State: IL
Country: United States
Website: https://www.marketsandmarkets.com/Market-Reports/probiotic-market-advanced-technologies-and-global-market-69.html