TELECO Invites Customers to Explore New Website with a Wealth of Useful Information and Features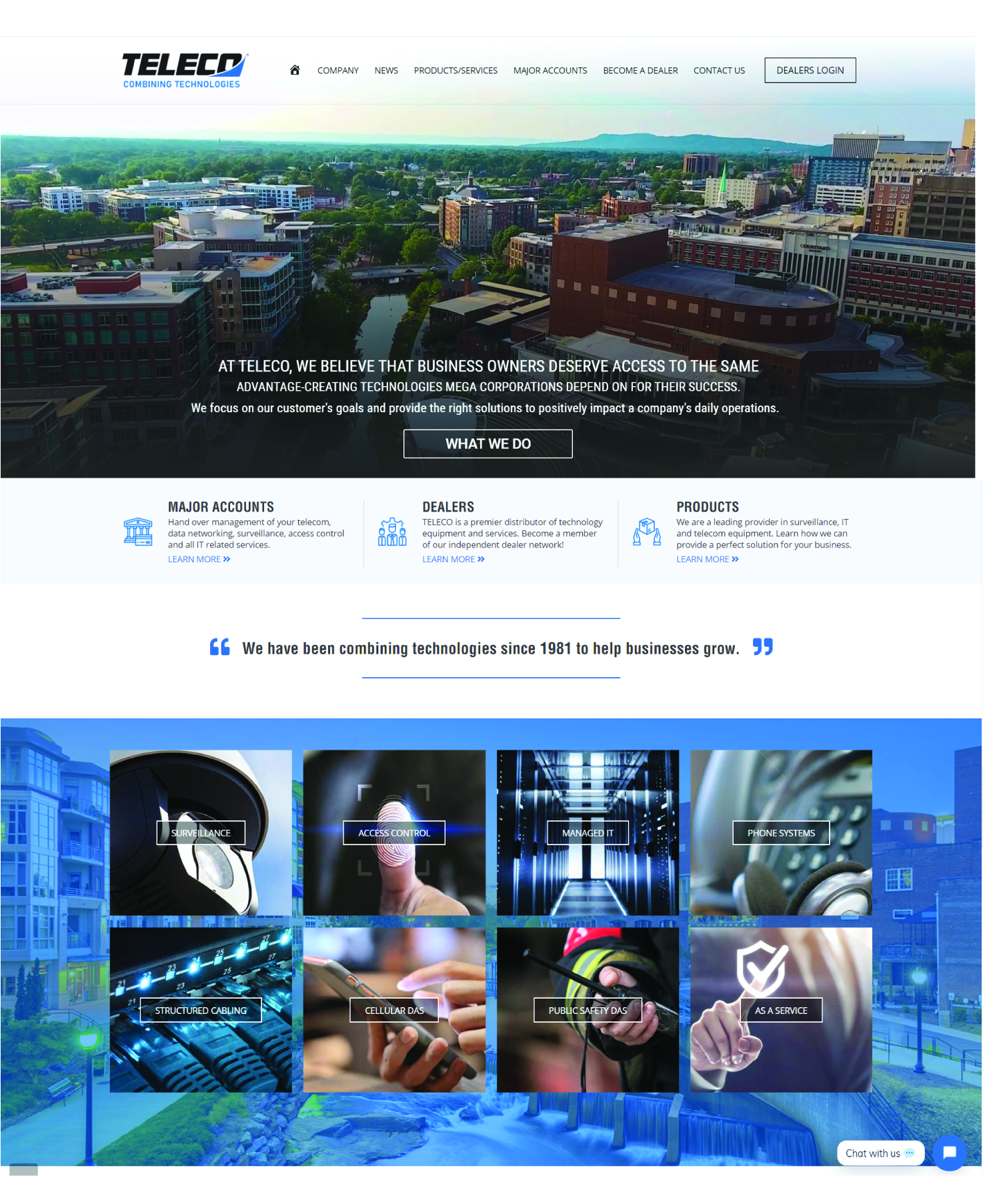 Business technologies are constantly changing throughout our industry. At TELECO, we make your decision-making process easier. Our experienced professionals are constantly researching new solutions and continuously recommending the enhancements best suited to our customer's needs. It will always be our focus to keep your business operating efficiently while keeping within the confines of your budget.
– Billy Rogers, COO
With its new website, TELECO has put focus on providing live support to customers and offering them everything they need to stay updated with the latest business technology.
In the modern era of business, the most desired and expected trait from companies is exceptional customer experience and support. This is the reason why TELECO has always prioritized the delivery of top-notch customer experience. Continuing its legacy of being remarkably customer-oriented, TELECO has redesigned its website with an easy-to-navigate interface and loads of valuable features. It has better speed, functionality, and navigation along with product and service portfolios delivered in a dynamic, attractive way.
The new website will provide TELECO's clients with all the information and solutions they may need to help take their business to new heights. It is equipped with lots of valuable features including a blog where visitors can read the latest technological news in the world of business, a detailed product section showcasing their latest solutions and downloadable brochures containing updated information about the technology they are interested in.
However, the best feature added to the website is Live Chat. By leveraging Live Chat, website visitors can quickly talk to TELECO representatives during business hours and can leave messages during non-business hours. Live Chat will bridge the communication gap between TELECO and its customers while enhancing the customer experience.
The technology solutions highlighted on TELECO's new website includes, but is not limited to, Unified Communications Solutions, Business Telephones, Video Surveillance, Public Safety and Cellular Distributed Antenna Systems (DAS), Photoluminescence, Building Access Control, Managed IT/Cloud Services and Structured Cabling. And all technology solutions are available "as a Service" for a monthly payment enabling customers to stay protected and updated with TELECO's CompleteCare ONE technology protection program.
With over 250 authorized dealers and 2000 affiliates, TELECO is always striving to better collaborate with its customers across North America. Now, with the revolution of the website and customer-friendly features like live chat, individuals and businesses can easily reach TELECO whenever they want. TELECO is committed to putting customers first and providing them with innovative products and services at a fraction of the cost of most solutions available today.
To learn more about TELECO, Inc. visit their website www.teleco.com or contact them via (800) 800-6159.
Media Contact
Company Name: TELECO, Inc.
Contact Person: Florencia Hernandez
Email: Send Email
Phone: (800) 800-6159
Address:430 Woodruff Road Suite 300
City: Greenville
State: SC
Country: United States
Website: https://www.teleco.com