Yenny Suarez Uribe wins bid to design Colombian national team uniform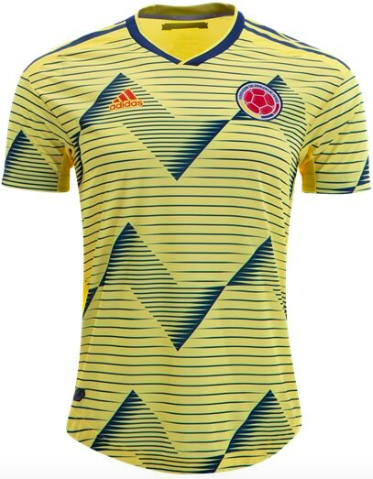 The 2019 design of the Colombia home jersey will be the final official design before Yenny Suarez Uribe reveals the 2022 World Cup version.
By: Phoebe Avila
Miami, FL – Top fashion designers dream of dressing top sports celebrities. Colombian fashion designer Yenny Suarez Uribe is now the designer of the entire national soccer team of that country. Suarez Uribe has been commissioned to design the new uniform for the Colombian national team which has on its roster international superstars including James Rodriguez, Radamael Falcao and Cuadrado.
The Colombian Soccer Federation is preparing for the 2022 World Cup in Qatar on and off the field. The Colombian national teams has improved in their performance in the last two World Cups and are poised to make impressive strides in the next two years, this is important for Suarez Uribe as her work will be exposed in one of the sports biggest stage. The Colombian team shirt is one of the most prestigious and iconic pieces of garment for Colombians used not only during games but in any occasion that calls for an expression of patriotism.
"I am honored to have been chosen to design the soccer shirt for the national team, it's a great responsibility," said Suarez Uribe.
This would be the first time a Colombian gets the opportunity to design the team shirts given that in years past, Adidas the official sponsor, designed the shirts.
Suarez Uribe is a well known in Colombia and in Miami for designing the wardrobes of some of the most iconic Colombian celebrities. She is credited with reviving the career of famed Diomedes Diaz by designing his flamboyant shirts which he became known for. Her designs have also donned on backs of Miss. Colombia 2015 and stars such as Carlos Vives and even Shakira.
Suarez Uribe is a headliner in Latin America's top fashion shows including the International Footwear and Leather Show. Suarez Uribe has won various national awards for her work in shoes, leather and textile designs.
According to El Tiempo, Colombia's leading newspaper, it reports thatin the 2018 World Cup more than 1 million officer teams shirts were sold which does not include the millions sold in the black market or unofficial replicas. Come 2022 when the official shirt is released, Suarez Uribe's design will be on the backs of millions of Colombians inside and out of the country for years to come. The national shirts are redesigned only every four years.
"It is fitting that team Colombia's shirts will be designed by a Colombian, manufactured in Colombia for Colombians," shared Suarez Uribe.
In the past, team uniforms were designed by non-Colombians and manufactured in Thailand. Adidas is the official brand of the Colombian national team's uniform.
Media Contact
Company Name: El Norte
Contact Person: Pablo Torres, Executive Director
Email: Send Email
Country: United States
Website: www.bellavistacommunications.com