European Studio Furniture Brand – Studio Desk – Celebrates Fifth Anniversary with the Introduction of Their Latest Range of Amazing Music Production Equipment
October 15, 2019 – Studio Desk, the European Brand for the premium recording studio furniture just celebrate their fifth anniversary of existence. Their accomplishments in this relatively short period is outstanding. To measure the popularity of some company or Brand, check their social media channels and compare it with their competitors. Their product catalog includes seven different models of music workstations designed for home and professional studio environment. The choice of models, uncompromised quality and unique design position them to become the most popular brand on the market.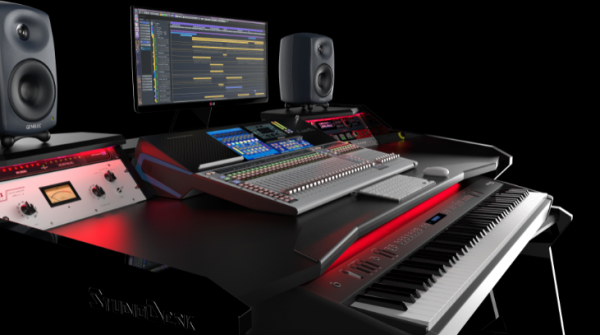 Studio Desk founder/owner Danny Galich in an interview was asked how he succeeded in dominating the market in such a short period. He had this to say "What was crucial to our success was the knowledge about studio environment, engineer needs, understanding producers workflow, their equipment, keyboards, consoles, speakers, racks and other gear used in modern Digital studios. Every recording desk I am designing is like painting a picture of its usage in my own studio. Musicians are artists. I would say, artist soul is different from any other. They are special species. I have been a musician and music producer myself for many years. For this reason, I understand these people very well. We are talking the same language. We click on every aspect when it comes to the music creation process," he continued.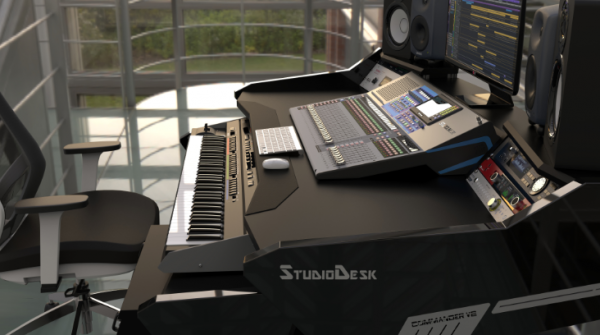 "On the other hand, our exquisite quality is recognized on a first look. Over 90% of our desks are lacquered with High gloss piano lacquer finish, matte lacquer combined with a modern contemporary design, so these are the aspects we are taking very seriously."
After the release of our Commander V2 Series earlier this year, we just released our new model Xtreme.

Video Link: http://www.youtube.com/embed/2yPMn2a2N84
This is our first desk created for studio and gaming field and for the first time, we tapped into the sit to stand workstations offering a more healthy way of working with the ability for easy transformation. He explained that the Xtreme desk is on a motorized mechanism and can be lifted to the standing position or any other height with a touch of the button. RGB LED lights are added as a standard and give this desk stunning looks.
"There is a variety of other models to choose from our catalog. The Beat Series, with its unique features, was designed for producers with smaller rooms. Enterprise Series is a professional workstation for producers who are not using a lot of rack gear.
PRO LINE Classic and S Series are the biggest desks in our range. Virtuoso Series is a smaller, yet powerful producer workstation with a lot of rack space. Music Commander Series was the first desk in the Studio Desk catalog, yet it is still very popular. In addition, of course here is our flagship workstation, impressive Commander V2, the choice of many A-list music producers worldwide."
For individuals looking for quality made, well-designed, ergonomic, professional music workstation for their homes or commercial studio, the desk they would be proud to call their own, visit StudioDesk website, they promise to deliver the best always.
For more information, visit the website at www.studiodesk.net
The company social media handles can also be followed:
Facebook: https://www.facebook.com/HomeStudioDesk/
Instagram: @homestudiodesk
Youtube: http://www.youtube.com/c/StudioDesk
Media Contact
Company Name: Studio Desk
Contact Person: Danny Galich
Email: Send Email
Phone: +38640605828
Country: Slovenia
Website: http://www.studiodesk.net/