Two generations of Fashion Icons: Castellani and Iris Apfel to form the Perfect Team of Influencers for Neiman Marcus
October 7th, 2019 – Castellani, the fashion influencer and youth empowerment activist who recently became a social media sensation, and the one and only Iris Apfel, the 98-year-old fashion legend, will be the new faces of Neiman Marcus promotions.
Neiman Marcus needs no introduction, once described as the 'perfect store for women', and today a sought after place for designer handbags, dresses, and shoes. This time, the team of Castellani and Apfel will lead its promotions.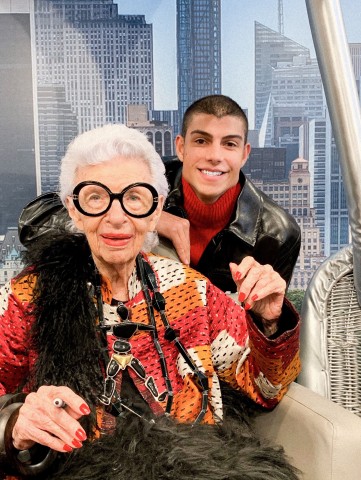 On one hand, there is Iris Apfel, a fashion legend who is 98 years and has been dictating rules for the fashion industry for many decades. She is joined by Castellani, the social media sensation who has been breaking rules in the fashion world, bringing up his unique and rival fashion style, while at the same time speaking out loud for the rights of minorities.
Says Castellani, "Nowadays what's fashion is using your power and your art to speak out for those who have been silenced for decades – silenced by the industry, silenced by fashion, silenced by the magazines and a white supremacy. Fashion up!"
Castellani is one of the influencers that Neiman Marcus believes in for his power. Putting him together with Iris Apfel, whose power and influence in the fashion world is undeniable, is very important. The whole world has changed, and fashion has changed too – even the way people buy fashion has changed.
"But fashion is history and culture, and you can't have the present and forget what's been built for centuries. Iris has much to teach this young generation about fashion, culture, respect, and love," says Castellani.
Castellani was awarded twice as one of the most promising personality of his generation by the Brazilian-Portuguese Award in New York. He has been awarded and honored last year in NYC for his global fundraising for charities and organizations, and advocating towards LGBTQ+ community and mental health awareness.
Media Contact
Company Name: PR Moretto
Contact Person: Media Relations
Email: Send Email
Country: United States
Website: https://www.instagram.com/castellani/