MIRRAW ANNOUNCES ITS 'ETHNIC MAHOTSAV SALE' THIS FESTIVE SEASON 7-10th Oct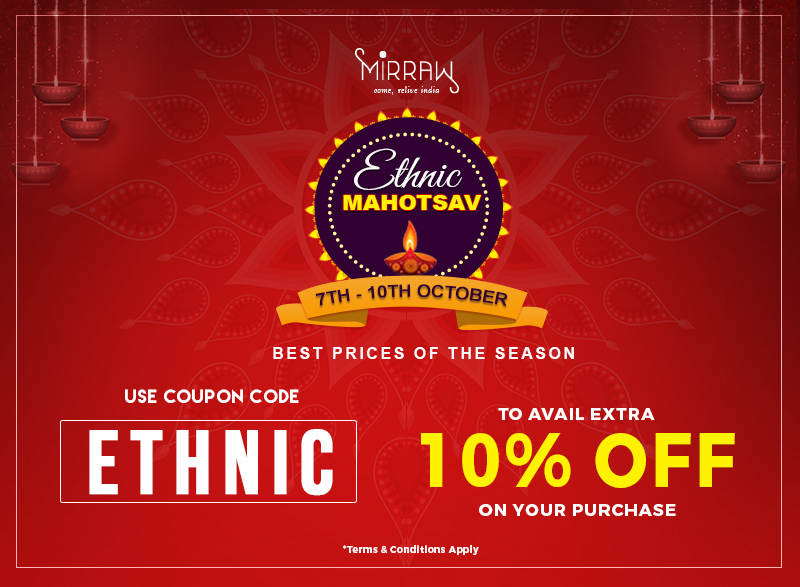 Hello lovely ladies! We understand that during the time of festival we all wait for the sale to get start and we shop for our favourite clothes, especially in ethnic wear like kurtis, sarees, lehenga or evergreen salwar kameez. If you are a lover of ethnic wear to, then you must be searching for distinctive and stunning outfits in traditional style, right?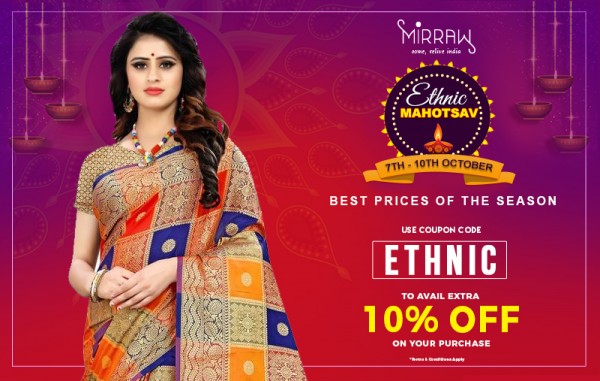 Well, here is the biggest announcement of the year that you must know!
Mirraw's ethnic mahotsav sale is just around the corner to add some of the best ethnic outfits like designer kurtis, stylish sarees, lehenga choli or stunning blouse designs. Not to mention it, you can also look for the beautiful and trendy jewellery to team up with the attire.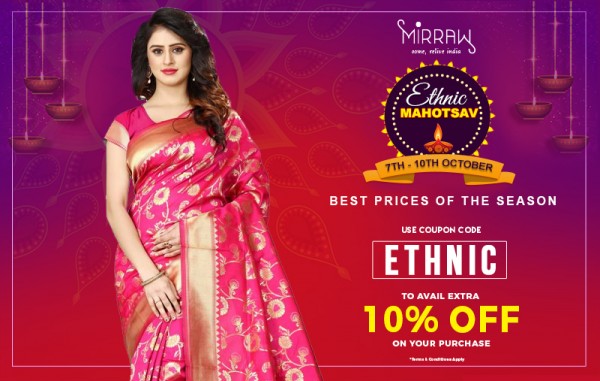 The Mirraw's ethnic mahotsav sale will commence its beginning from 7th of October and will end on 10th of October. The best part about this ethnic sale is that the buyers can easily shop from the wide range of ethnic wear along with the benefit of big discounts on their favourite outfits and accessories.
Mirraw is offering great discounts on various ethnic wear segments this ethnic Mahotsav sale. Lined up with some of the great discounts, deals and offers on different brands, Mirraw is announcing it Mahotsav sale for the shoppers to experience the best ever shopping in ethnic outfits this festive season!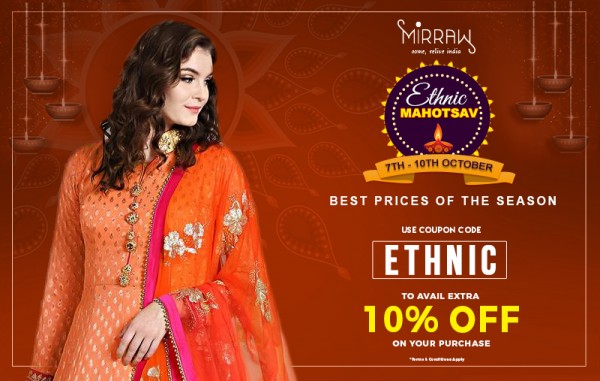 The sale will begin on Mirraw's online store platform to pick the latest designs and styles from over numerous outfits and accessories! It's an opportunity for the shoppers to stay ahead in the fashion game, especially during the festival season and stock their wardrobe collection with the best of designs and styles across different categories. To seal an incredible deal, get your notification panel on for Mirraw's ethnic mahotsav sale of 2019 to not to miss any of your favourite outfit or jewellery!
Of course, it's difficult as a shopper to get the right product and at a cost-effective price even during the sale season. So, here are some of the best tips that you should consider before you buy from Mirraw.
#1 – Keep your Wishlist Ready
Mirraw ethnic mahotsav is giving you that option that shop for the best ethnic attires and jewellery for your collection this time to rock the festivals in full Indian swag! From stunning embroidered kurtis, designer salwar suits to trendy lehenga choli, you will get everything in Mirraw's online store.
#2 – Make a Wise Selection
Before you fill your shopping carts, it's essential to know that whatever you are planning to buy should be perfect according to your size. Moreover, the product or item that you are planning should have discounts or offers. While stuffing the shopping baskets, you should ensure the quality of the product. Although, Mirraw designers and manufacturers believe in providing quality product to the valuable customers, so, you surely won't get low-quality product. Well, don't forget about the pricing as well. You can compare the different pricing of the products so that you know how much you are saving on your purchase.
#3 – Stay Tuned
As the Mirraw ethnic mahotsav sale is just around the corner i.e. on 7th of October, thus it becomes essential to stay tuned to not to miss any opportunity. Just turn on the notifications for Mirraw ethnic mahotsav sale this time to get sneak peak of the latest deals and offers that Mirraw is offering to their customers across the country. Whether its kurtis, sarees, lehenga or traditional salwar kameez, you will definitely love the ethnic collection of Mirraw's online store.
To get the best deal on this festive season, especially on ethnic wear outfits and conventional style jewellery, check out the Mirraw ethnic mahotsav sale that has a lot to offer to its customers. So, based on your previous history, you will get the best deals and offers that you really can't resist to shop this time for your wardrobe collection!
Media Contact
Company Name: Mirraw Online Services Pvt. Ltd
Contact Person: Yogesh
Email: Send Email
Phone: +912266484300
Country: India
Website: https://www.mirraw.com/