High school dropout now Ph.D. Candidate refuses to let NEGLECT happen to his students! He tells his story in his new book "Neglected Prospects"
Educator, speaker, mentor, and teacher-student relationships advocate, Tyson Askew brings more awareness to the concept of teacher-student relationships in his new book titled "Neglected Prospects"
Tyson Askew recently published a new book titled "Neglected Prospects," where he aims to shed more light on the somewhat forbidden concept of teacher-student relationships. The book is a collection of life significant events and personal experiences of Tyson as he looks to help educators, parents, and other stakeholders in the educational system cultivate practical principles for healthy student-teacher relationships that lead to success.
For several reasons, the notion of having a close bond with students has been brushed aside, causing students who need close connections, to miss holistic educational experiences. Tyson Askew is seemingly providing a comprehensive resource for students, teachers, and readers looking to put life not only back in education but back into their potential, talents, and gifts. This tool is also a key resource for saving the drastic decline of teachers in Americas' classrooms.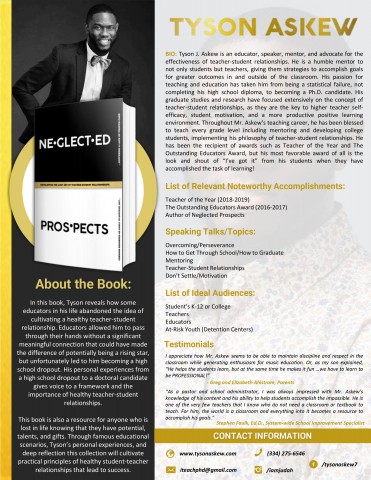 "Neglected Prospects" aims to teach the art of student-teacher relationships that help students get holistic educational experiences resulting from outstanding, ethical, professional educators bonding with students who need more than reading, writing, arithmetic, a syllabus, a rubric, and a grade. The book also aims to encourage anyone who is lost in life and trying to find their way to purpose. In this book, Tyson exposes many of his life's truths to help others see that overcoming is possible and perseverance will pay off!
Tyson Askew uses several famous education scenarios, his personal experiences, and deep reflection to teach the development and construct of positive healthy student-teacher relationships. The author also shares his motivating personal experiences from being a high school dropout to becoming a doctoral candidate.
As an award-winning educator, Mr. Askew refuses to let his students go without a meaningful connection. Based on his research and personal classroom experience, he has witnessed the holistic life change power of connecting with students in a meaningful and purposeful way!
"Neglected Prospects" is available for pre-order NOW at the website. This book will change your way of thinking and add enormous value to your life!
For more information about "Neglected Prospects" and other works from Tyson Askew, please visit – https://tysonaskew.com/. Tyson Askew is also available on several social media platforms, including Facebook and Instagram.
About Tyson Askew
Tyson J. Askew is an educator, mentor, and advocate for teacher-student relationships. He is passionate about teaching and education, which has taken him from being a statistical failure, not completing his high school diploma, to becoming a Ph.D. candidate. Tyson continues to teach, mentor, and speak to youth and young adults who are searching for their path in life and education. Over the years, he has helped educators to gain a greater sense of self-efficacy and a renewed passion for education.
Media Contact
Contact Person: Tyson Askew
Email: Send Email
Country: United States
Website: http://www.tysonaskew.com/