MagicSeed, the new offline device securely saves seed phrase using a secret key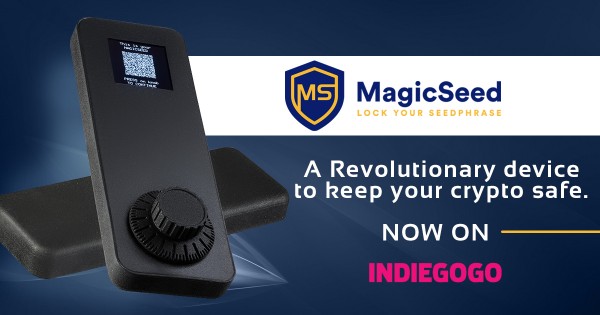 All the crypto enthusiasts know the hassle and risk of saving their seed phrase securely. A seed phrase is basically a list of 24 random words that are used as a backup code for the cryptocurrencies. While most users prefer to write it down or get it printed on a paper, it isn't the most feasible and convenient method. The code has to be secured at someplace safe and it becomes difficult for the users to access it in an emergency, like when they are traveling somewhere. This is why MagicSeed, an innovative new device for crypto users is created.
MagicSeed is a physical device that works completely offline and encrypts a seed phrase using a secret key, creating a QRcode that the user can safely save directly in a MicroSD card, take a picture of it or store it wherever they want to. When the user will need to use their original seed to recover their wallet, they can simply use the decrypt option, loading the QRcode inside the MagicSeed device, and insert the key they used to first encrypt it to see the original seed. Even if someone finds the user's QR code, the seed is still safe because, with a minimum of 16 characters of the secret key, it will be near impossible for anyone to break the password.
Here's how it works
Insert your seed phrase in MagicSeed, without needing any internet connection
Type your secret key and choose a phrase which is easy to remember for you like a songline, dog name, etc.
The device will generate a QR code linked to the secret key. The QR code doesn't need to be hidden as it is useless without the secret key.
Use the QR code and the secret key to instantly access the 24 words seed phrase anywhere and anytime.
Some of the advantages of the MagicSeed device is that it can be carried anywhere, works 100% offline so no risks of online attacks, and supports multiple currencies like Bitcoin, XRP, Ethereum, etc. Since the original seed phrase is not stored in the device, so only the user will know what they're typing into it. The users can store any seed phrases with no limits. In addition, the MagicSeed device is compatible with any hardware wallet and doesn't require any subscription. It's a one time purchase, that takes away the worry of remembering or keeping the seed phrase safe.
MagicSeed is currently running a fundraising campaign on Indiegogo.com. The first 150 backers can get the MagicSeed device at 50% of the retail price. Find more information at Indiegogo campaign.
Media Contact
Company Name: MagicSeed – Indiegogo Campaign
Contact Person: Umberto Parisi
Email: Send Email
Country: Italy
Website: www.magicseed.io