Deadwood western marks return of Robert Bronzi
Western reunites the team of Death Kiss
Robert Bronzi and the team behind his 2018 actioner "Death Kiss" reunite for the new western "Once Upon A Time in Deadwood".

On digital on Tuesday, the film stars the rising action-movie star as a notorious gunslinger who is slipped a slow-acting poison by an heiress and told he has three days to track down and rescue her sister, who has been kidnapped by a band of hoodlums and holds the antidote. Michael Pare, of "Eddie and the Cruisers" and "Streets of Fire" fame, plays the villain.

Rene Perez directs from his screenplay, with Jeff Miller producing.

It was the filmmaker who discovered Bronzi – immediately recognizing his uncanny resemblance to a certain classic movie star.
"I was filming a TV episode in Spain in a cowboy town set where Bronzi was working", Perez said in a recent interview. "I was blown away by the resemblance to Bronson of course. He was already an accomplished stunt performer and aspiring actor so I didn't have to convince him. He was trained and ready. The only problem was convincing any of the producers I worked for to allow me to put him in a movie. That was the initial challenge. It's not a problem any more. Jeff Miller is one of the first producers who allowed me to make movies centered around Bronzi. Thankfully."

Karin Brauns, Lauren Compton,actor-model Chris Matteis, J.D. Angstadt, Jose Varela Garcia, Justin Hawkins, Tony Jackson, and Sierra Sherbundy co-star.

The movie was filmed in California as well as in Western Leone, near Almeria, Spain, site of much of the filming of the famous Sergio Leone/Charles Bronson western "Once Upon A Time in The West".

"I've always loved Death Wish. Once Upon a Time in the West is one of the great westerns of all time", explained Perez. "It's nothing I can really aspire to on a B movie level with just me as the only crew member and my actors being my helpers. My main inspiration for this movie was capture the style of the 60's westerns as much as possible. I always make retro style movies. Usually 80's style in particular but in this case I went for a 60's look and feel."
"Once Upon A Time in Deadwood" is released Tuesday from Uncork'd Entertainment.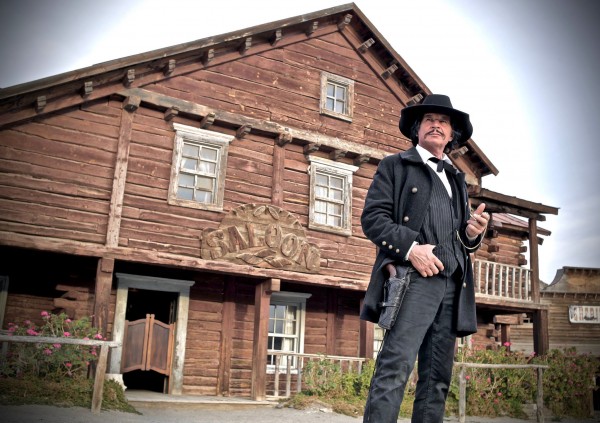 Media Contact
Company Name: OCTOBER COAST PR
Contact Person: Caroline Shane
Email: Send Email
Phone: 0011 +61 3 99996034 ext. 314
City: LOS ANGELES
State: CA
Country: United States
Website: https://www.uncorkedentertainment.com/