Certified Circular Plastics Market Size Worth USD 3.93 Billion 2030 | Emergen Research
Rising demand for eco-friendly or sustainable plastics is a key factor driving revenue growth of the global certified circular plastics market
The Global Certified Circular Plastics Market size is expected to reach USD 3.93 Billion in 2030 and register a steady revenue CAGR of 12.3% over the forecast period, according to latest analysis by Emergen Research. Steady certified circular plastics market revenue growth can be attributed to rapid rise in demand for eco-friendly and sustainable plastics and packaging materials. Plastics output around the globe has reached 311 million metric tons, and it is expected to grow at a rate of roughly 4% per year over the foreseeable future. While plastics provide numerous benefits in terms of packaging and usage etc., concerns continue to increase regarding the potential harm that chemical components of plastics can cause to human health and the environment. A circular economy reduces waste, maximizes value, and makes effective use of plastic. This will also help to safeguard the environment, minimize marine litter, greenhouse gas emissions, and human reliance on fossil fuels in the process.
For More Info, Get Sample Report Here @ https://www.emergenresearch.com/request-sample/1129
Major Players/Manufacturers profiled in the report are: BASF SE, SABIC, INEOS Styrolution Group GmbH Mainzer Landstraße, The Dow Chemical Company, Exxon Mobil Corporation, Eastman Chemical Company, Lyondell Basell Industries Holdings B.V., Loop Industries, Inc., Chevron Phillips Chemical Company LLC., and IBM Corporation.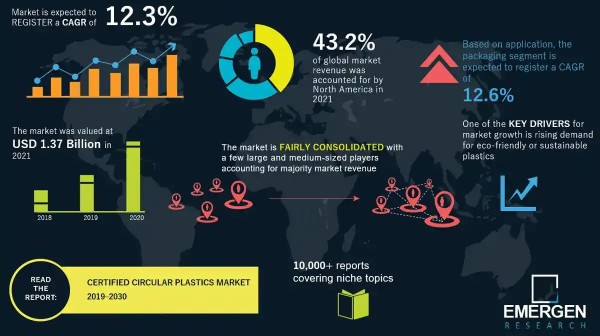 A recent trend in the market is the increasing initiatives taken by companies and brands to reduce their plastic waste. For instance, the Ellen MacArthur Foundation (EMF) joined a group of over 275 companies, retailers, recyclers, governments, and Non-Governmental Organizations (NGOs) to unveil the New Plastics Economy Global Commitment, which is a shared goal to stop the loop on plastic pollution. The first progress report on the Global Commitment was presented by the EMF and the United Nations Environment Program. Apple, Barilla, Tetrapak, and L'Occitane en Provence were among the more than 350 signatories, which also include the Rwandan government and the towns of Sáo Paulo, Brazil, and Ljubijana, Slovenia.
Some Key Highlights From the Report
On 26 May 2021, circular economy-focused investment firm, Closed Loop Partners, joined forces with three leading plastics and material science companies, including Dow, LyondellBasell, and NOVA Chemicals, to establish the Closed Loop Circular Plastics Fund (CPF), which is a multi-million-dollar fund to accelerate investment in plastics recycling infrastructure.
Polyethylene Terephthalate (PET) segment is expected to register a rapid revenue growth rate over the forecast period. This is attributed to the material being very commonly recycled. PET is widely recycled due to its significant advantages over other types of plastics. For starters, PET is a relatively inert polymer and ideal for food containers as it has essentially no contact with the contents. It has the ability to form an oxygen and water barrier and can be produced quickly. PET is also extremely durable and lightweight, making it excellent for beverage bottles. It can also be used to manufacture translucent bottles, which is not possible with Polyethylene (PE) or Polypropylene (PP).
The packaging segment is expected to lead in terms of revenue share in the global market over the forecast period owing to increasing initiatives by various companies to become more sustainable. Marks & Spencer, for example, is looking into the feasibility of making all of its own-brand plastic packaging from a single polymer by the end of 2022 in order to make recycling easier. In addition, much of today's packaging, such as crisp packs and pet food pouches, are flexible and consist of a mixture of materials, adhesives, and coatings that are difficult to separate and recycle. In order to solve this, CEFLEX, which is a collaboration of European firms and NGOs representing the flexible packaging value chain, is working to define robust design criteria for flexible packaging as well as the infrastructure that collects, sorts, and recycles these.
Click to access the Report Study, Read key highlights of the Report and Look at Projected Trends: @ https://www.emergenresearch.com/industry-report/certified-circular-plastics-market
The food and beverages segment is expected to register a rapid revenue growth rate over the forecast period. This can be attributed to increasing use of sustainable packaging in the food & beverages industry. Since early 2020, major CPGs have made over two dozen announcements on new kinds of packaging, set goals, and created collaborations to reduce their waste footprint, according to a data from Food Dive. The term 'circular economy' was coined by stakeholders who want plastic packaging to be part of a cyclical value chain, in which all materials are reused, repurposed, or composted, and kept out of landfills and the environment. This goal is being pursued by manufacturers in a variety of ways. Some businesses aspire to completely phase out virgin plastic in favor of recycled plastic, paper, or other ecologically beneficial alternatives. Refillable containers, on the other hand, have been welcomed by others. Some think biodegradable and compostable packaging has a lot of potential to be more environment friendly.
The market in North America is expected to account for largest revenue share during the forecast period, which is attributed to increasing focus on sustainability and presence of key companies in countries in the region. The Dow Chemical Company, for example, reported a variety of advancements in its efforts to reduce plastic waste, reduce greenhouse gas emissions, and supply consumers with recycled plastic products that perform as well as virgin polymers derived from fossil fuels. As a result of these advances, the company set an aim to supply clients with fully circular polymers starting in 2022. SABIC provide completed polymers to manufacturers who are developing unique home care products or high-quality consumer packaging for food, beverage, and personal care products. The International Sustainability and Carbon Certification Plus (ISCC+), which is a global certification system that strives to develop a more sustainable global supply chain, has approved SABIC's certified circular polymers.
Emergen Research has segmented the global certified circular plastics market on the basis of type, application, end-use, and region:
Type Outlook (Revenue, USD Million; 2019–2030)
Polyethylene Terephthalate
High-Density Polyethylene
Polyvinyl Chloride
Low-Density Polyethylene
Polypropylene
Polystyrene
Others
Application Outlook (Revenue, USD Million; 2019–2030)
Packaging
Grocery Bags
Others
End-Use Outlook (Revenue, USD Million; 2019–2030)
Food & Beverages
Healthcare
Household
Building & Construction
Agriculture
Electrical & Electronics
Others
Click here to Buy Now @ https://www.emergenresearch.com/select-license/1129
Regional Outlook (Revenue, USD Million; 2022-2030)
North America
U.S.
Canada
Mexico
Europe
Germany
U.K.
France
Italy
Spain
Sweden
BENELUX
Rest of Europe
Asia Pacific
China
India
Japan
South Korea
Rest of APAC
Latin America
Brazil
Rest of LATAM
Middle East & Africa
Saudi Arabia
U.A.E.
South Africa
Israel
Rest of MEA
Request customization of the report @ https://www.emergenresearch.com/request-for-customization/1129
The report addresses the following key points:
The report estimates the expected market size from 2021-2030
The report provides a forecast of market drivers, restraints, and future opportunities for the Certified Circular Plastics market
The report further analyses the changing market dynamics
Regional analysis and segmentation of the market with analysis of the regions and segments expected to dominate the market growth
Extensive competitive landscape mapping with profiles of the key competitors
In-depth analysis of business strategies and collaborations such as mergers and acquisitions adopted by the key companies
Revenue forecast, country scope, application insights, and product insights
Thank you for reading our report. For any specific details on customization of this report, please get in touch with us. We will ensure the report you get is well-suited to your needs.
About Emergen Research
At Emergen Research, we believe in advancing with technology. We are a growing Marketresearch and strategy consulting company with an exhaustive knowledge base of cutting-edge and potentially market-disrupting technologies that are predicted to become more prevalent in the coming decade.
Media Contact
Company Name: Emergen Research
Contact Person: Eric Lee
Email: Send Email
Phone: +1 (604) 757-9756
Address:14671 110 Avenue Surrey, British Columbia, V3R2A9
City: Surrey
State: British Columbia
Country: Canada
Website: https://www.emergenresearch.com/industry-report/certified-circular-plastics-market