Laze Pillow Rated Pool Float Of The Year By Pool Magazine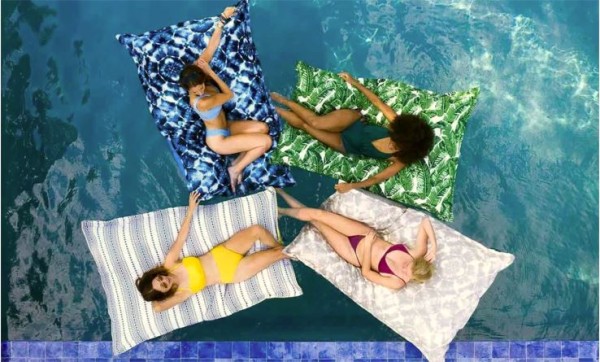 As the weather gets warmer, many people are starting to think about a relaxing summer spent lounging in the pool. If you are looking for a way to truly relax and enjoy the best this summer has to offer, consider investing in a pool float. Floats are a great way to lounge around in the water and soak up the sun. With so many different types of pool floats available on the market, it can be hard to know which one is right for you. That's why Pool Magazine has released their list of the "Best Pool Floats", broken down by category.
Those who are searching for a specific style or kind of float, will find a wide variety of best-in-class products covered. From inexpensive inflatables to luxury floats you'll find in the most discerning homes; you're sure to find the perfect float for your next pool party.
One of the most significant offerings of the season features high end fabrics, a comfortable and roomy floating surface area, and was called the "Cadillac of Pool Floats" by Pool Magazine.
The Laze Pillow by Ledge Lounger has been officially named Pool Magazine's Editor's Pick For Best Pool Float of the Year. The Laze Pillow will appeal to those looking for comfort and style in a luxury float. Far from your average pool toy, the Laze Pillow will appeal to consumers seeking the best value.
The unique bean-bag style design means it does not require it to be inflated and looks just as stylish on the lawn as it does in the water. With multiple limited edition patterns it's also easy to change the look of your float in seconds.
If you are looking for the best pool floats of the season, make sure to read Pool Magazine's review and look no further than the Laze Pillow by Ledge Lounger. This float is sure to provide you with hours of relaxation and enjoyment.
Want to learn more about the best products for your pool and backyard? Make Pool Magazine your go to source for industry expert product recommendations.
Media Contact
Company Name: Pool Magazine
Contact Person: Alise Everton
Email: Send Email
Country: United States
Website: https://www.poolmagazine.com