Kivnon USA Featured in Industrial Podcasts Addressing AGV Solutions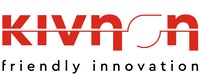 Kivnon USA, a leader in developing, designing, producing, and distributing automated guided vehicles (AGVs), has been featured in several industrial podcasts, such as Industrial Talk, Manufacturing Talk Radio, The New Warehouse, and Quality Digest Live.
Industrial Talk is about celebrating the women and men of industry and manufacturing. Host, Scott MacKenzie celebrates innovative leaders and companies, highlighting passionate leaders who collaborate, innovate, and educate that impact people and communities around the world.
Manufacturing Talk Radio has been airing as a podcast since November of 2013, with interviews of industry executives, business thought leaders, respected economists, non-profit directors, elected officials, academic influencers, congressional representatives, and boots-on-the-ground manufacturing innovators to present a complete picture of the industry and the economy.
Kevin Lawton, the host and founder of The New Warehouse podcast has been working in the distribution and logistics industry since 2012 when he began his career as a temp employee in the Inventory department at Simon & Schuster. Since then, he has become a global industry leader in all matters to do with warehouses, distribution centers, and robotics.
Quality Digest magazine and Quality Digest Live presents all facets of quality, including metrology, Six Sigma, lean, inspection, testing, SPC, software, and international standards. Quality Digest offers more editorial coverage of these standards than any other quality magazine or web site. The host is Dirk Dusharme.
Kivnon is an international company dedicated to mobile robotics. Since its founding as a family business in 2009, the company has offered clients innovative and high-tech solutions for the implementation of AGVs and AMRs. The company continues to expand with comprehensive projects including installation and technical assistance service.
About Kivnon:
Kivnon offers a wide range of autonomous vehicles (AGVs/AMRs) and accessories for the transport of goods, using magnetic navigation or mapping technologies, that adapt to any environment and industry. The company offers an integral solution to customers. Kivnon products are characterized by their robustness, safety, precision, and high quality. Each product has been designed with a user-friendly philosophy creating a pleasant, simple to install, and intuitive work experience.
The company offers a wide range of mobile robotics solutions automating different applications within the automotive, food and beverage, logistics and warehousing, manufacturing, and aeronautics industries. Follow Kivnon on Twitter @KivnonUSA. Call (947) 228-1316.
Media Contact
Company Name: Kivnon
Contact Person: Rob Britt
Email: Send Email
Phone: (947) 228-1316
Address:37640 Hills Tech Drive
City: Farmington Hills
State: MI
Country: United States
Website: https://www.kivnon.com/