How Bandhuli, a Kolkata based fashion-boutique romanticizes India's art and culture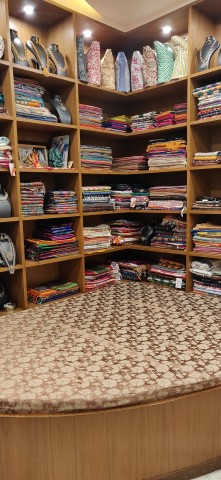 When we asked Mrs. Shrabani Karan why Bandhuli is not just a retail shop but a boutique, it didn't take her a moment to reply – "Our creativity or sense of style is reflected in Bandhuli's collections. Unlike running the establishment like a regular retail store with staff and various mass collections, we keep a sleek range of products catering to a client segment of a preferred taste. As a result, you will find custom-made services and niche-style clothing in our boutique, while standard and high-produced items for the masses are more on the line of a clothing store."
It's true! Shrabani along with her husband Jishnu, have poured a part of their soul into their stores. They are passionate about Indian art. Following the tagline of "blending art in your attire," Bandhuli's handpicked saree designs attempt to spotlight India's rich culture of art and handicrafts. From Madhubani paintings to Kalamkari, from wood-block printing to wax batik, each piece of Bandhuli's saree collection showcases these handcrafted designs.
Bandhuli procures the raw material for sarees directly from the local weavers in the villages and districts. The authentic tussar silk comes from Chhattisgarh, while the cotton sarees are obtained from weavers in Bengal. Thus Bandhuli has established an assurance of purity in the mind of its clientele.
Due to the trimmed structure, Bandhuli can offer more personalized solutions to their clients, unlike retailers. As a result, the relationship between Bandhuli and its clients tends to become more personal. It transcends the store-client relationship. Somehow it becomes a bonding for a style statement. Every client of Bandhuli has become its brand ambassador.
Media Contact
Company Name: Bandhuli Fashions
Contact Person: Shrabani Karan
Email: Send Email
Country: India
Website: bandhuli.com