Cryotherapy Market To Escalate Noticeably With 10.3% CAGR Till 2028, Driven By Rising Adoption And Introduction of Technologically Advanced, Affordable Cryotherapy Devices | Grand View Research, Inc.
According to new report available with Grand View Research, the cryotherapy industry is expected to witness enhanced growth owing to the growing strategic initiatives such as mergers, collaborations, and acquisitions by leading players.
Cryotherapy Industry Overview
The global cryotherapy market size was valued at USD 3.8 billion in 2020 and is expected to reach USD 8.4 billion by 2028, registering a CAGR of 10.3% over a forecast period.
Cryotherapy, sometimes called cryogenic therapy, is a minimally invasive therapy that involves the use of extremely cold temperatures to destroy diseased tissue. Cryotherapy is widely used in the treatment of a variety of chronic conditions such as cancer, arthritis, pain, and skin conditions like warts, skin tags, and dark spots. Cryosurgery offers various advantages over traditional surgeries including smaller incisions, shorter hospital stay, rapid wound healing, lesser pain and surgical wounds, and lower risk of complications. Such advantages of cryosurgery have led to its increased adoption in the past few years, thus, supporting its market growth.
Gather more insights about the market drivers, restrains and growth of the Global Cryotherapy Market
The introduction of technologically advanced and affordable cryotherapy devices and the increasing adoption of such devices in key regions are anticipated to significantly fuel the market growth. In May 2020, CryoBuilt, a manufacturer of whole body cryotherapy systems, launched EVEREST, an advanced and affordable product line of whole body cryotherapy chambers. In May 2019, Cryo Innovations received approval for a Federal General Services Administration (GSA) contract to provide whole body cryotherapy solutions to the U.S. Military or any government department.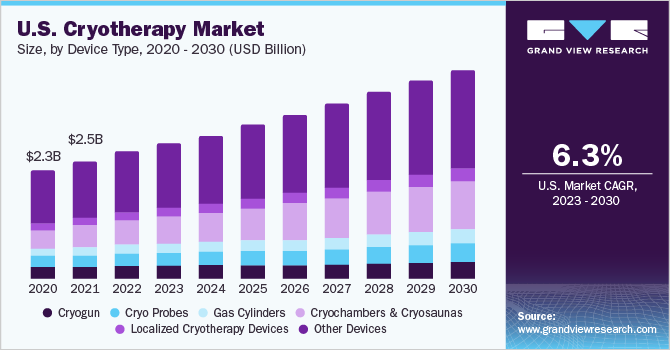 Furthermore, the mounting prevalence of chronic conditions such as cancer, arthritis, fibromyalgia, among others has fueled the demand for effective cryotherapy solutions for its treatment. According to the data published by the International Agency for Research on Cancer (IARC), in 2018, an estimated 17.0 million new cases of cancer were observed worldwide, which led to around 9.5 million deaths. The same source also stated that, by 2040, this number is projected to grow to 27.5 million new cancer cases every year.
Moreover, increasing strategic initiatives such as mergers, collaborations, and acquisitions by leading players are likely to create a conducive environment for market growth during the forecast period. For instance, in June 2019, Varian Medical Systems, Inc. acquired Endocare and Alicon in order to expand its integrated cancer care solutions portfolio. Following this acquisition, Varian expanded its portfolio with Endocare's Cryocare CS System, a fully integrated treatment system that is designed to simplify cryotherapy. This strategic acquisition helped Varian to enhance its position in the oncology segment.
Cryotherapy Market Segmentation
Based on the Therapy Type Insights, the market is segmented into Cryosurgery, Icepack Therapy, and Chamber Therapy.
Chamber therapy involves the use of very low temperatures, around -60 °C to -110 °C, for pain management and other applications such as relaxation and beauty treatment. This therapy is recommended for individuals suffering from chronic pain due to any medical condition such as rheumatoid arthritis.
The cryosurgery segment dominated the market in 2020 with a revenue share of 64.5%. Increased demand for minimally invasive cryosurgery for the treatment variety of diseases such as cancer, benign tumors, etc. has supported the segmental growth.
Icepack therapy and chamber therapy segments are predicted to show robust growth during the forecast period. Icepack therapy involves the usage of cold temperatures to slow down blood flow and helps to reduce pain and swelling.
Based on the Application Insights, the market is segmented into Surgical Applications, Pain management and Others.
The surgical applications segment dominated the market and accounted for the largest revenue share of 71.0% in 2020. The market is sub-segmented into oncology, cardiology, dermatology, and others based on surgical applications.
The pain management segment is anticipated to show significant growth owing to the high prevalence of joint and muscle pain in the adult population and the introduction of innovative cryotherapy products for their treatment.
Based on the Device Type Insights, the market is segmented into Cryogun, Cryo Probes, Gas Cylinders, Localized Cryotherapy Devices, Cryochambers & Cryosaunas, and Others.
The cryogun segment dominated the overall market with the largest revenue share of 25.9% in 2020 and is projected to maintain its dominance throughout the forecast period.
The cryochambers and cryosaunas segment are projected to grow at the highest rate during the forecast period due to its increasing application in pain management.
Based on the End-use Insights, the market is segmented into Hospitals & Specialty Clinics, Cryotherapy Centers, Spas & Fitness Centers, and Others.
Hospitals and specialty clinics led the market and accounted for the largest revenue share of 43.1% in 2020. This large share is attributed to the fact that hospitals and specialty clinics serve as primary centers for cryosurgery.
The cryotherapy centers segment is estimated to witness lucrative growth during the forecast period. The high growth of this segment can be credited to the increasing establishment of cryotherapy centers in the key markets.
Based on the Regional Insights, the market is segmented into North America, Europe, Asia Pacific, Latin America, and Middle East & Africa.
North America dominated the cryotherapy market and held the largest revenue share of 37.4% in 2020 and is projected to maintain the lead throughout the forecast period.
In Europe, the market is expected to account for a significant share owing to the approval and launch of innovative cryotherapy products in the region.
Market Share Insights
January 2021: [email protected] established its new cryotherapy center in Georgetown, Texas. This newly launched center offers whole body cryotherapy treatments to reduce inflammation, pain, and weight.
January 2019: Quantum Cryogenics launched cryochamber CryoQube as a part of its new venture. The product delivers cold air that had been pre-chilled using liquid nitrogen.
Key Companies Profile:
Key participants in the market are engaged in various inorganic and organic strategic developments to expand their existing product portfolios and geographic expansion. Some of the prominent players in the cryotherapy market include,
Brymill Cryogenic Systems
Metrum Cryoflex Sp. z oo, Sp.
CryoConcepts LP
Medtronic
CooperSurgical, Inc.
Cortex Technology
Mectronic Medicale S.r.l.
Cryoalfa
ERBE Elektromedizin GmbH
Special Medical Technology Co., Ltd.
Order a free sample PDF of the Cryotherapy Market Intelligence Study, published by Grand View Research.
About Grand View Research
Grand View Research is a full-time market research and consulting company registered in San Francisco, California. The company fully offers market reports, both customized and syndicates, based on intense data analysis. It also offers consulting services to business communities and academic institutions and helps them understand the global and business scenario to a significant extent. The company operates across multitude of domains such as Chemicals, Materials, Food and Beverages, Consumer Goods, Healthcare, and Information Technology to offer consulting services.
Web: https://www.grandviewresearch.com
Media Contact
Company Name: Grand View Research, Inc.
Contact Person: Sherry James, Corporate Sales Specialist – U.S.A.
Email: Send Email
Phone: 1888202951
Address:Grand View Research, Inc. 201 Spear Street 1100 San Francisco, CA 94105, United States
City: San Francisco
State: California
Country: United States
Website: https://www.grandviewresearch.com/industry-analysis/cryotherapy-market