Flow Meter Market Is Estimated To Reach $12.99 Billion By 2028, Owing To High Demand For Flow Rate Measurement in Oil & Gas Management Applications Globally | Grand View Research, Inc.
According to a new report published by Grand View Research, advancements in technologies such as wireless monitoring and control, advanced sensors, and digital readouts are expected to drive the growth of the flow meters industry over the forecast period.
Flow Meter Industry Overview
The global flow meter market size was valued at USD 8.29 billion in 2020 and is estimated to reach USD 12.99 billion by 2028, expanding at a compound annual growth rate (CAGR) of 5.7% during forecast period.
The market shipment size was valued at 53,78,749 units in 2020. The increasing demand for flow rate measurement in O&G management applications across the globe is expected to drive the growth of the market over the forecast period. The adoption of measurement technologies and instruments would also gain traction in other sectors, such as water and wastewater, power generation, and pulp and paper over the forecast period. The adoption of products would be particularly significant in the O&G, and chemical and petroleum refinery sectors owing to the recent detection of shale gas reserves in North America, Europe, and the Asia Pacific.
Gather more insights about the market drivers, restrains and growth of the Global Flow Meter Market
The demand for intelligent systems is expected to increase over the foreseeable period as the integration of IoT has led to the introduction of smart measurement solutions. The demand for Coriolis flowmeter is estimated to increase on account of its enhanced smart capabilities to measure the rate more accurately. The players in the market are mainly targeting the O&G sector and investing aggressively to offer innovative products and solutions to measure the flow rate of liquids, gases, and vapors. Additionally, custody transfer in the oil and gas sector is one of the key applications creating lucrative opportunities for ultrasonic and Coriolis flowmeters.
Advancements in technologies such as wireless monitoring and control, advanced sensors, and digital readouts are expected to drive the growth of the market over the forecast period. Manufacturers of the product are increasingly adopting the IoT sensors for smart metering solutions. The advanced approach of IoT enables automatic meter reading, which collects data automatically and remotely. Owing to such technological developments in products, the market is expected to grow at a significant rate from 2021 to 2028. However, the calibration of the product is a time-consuming process, which is expected to pose a challenge for market growth.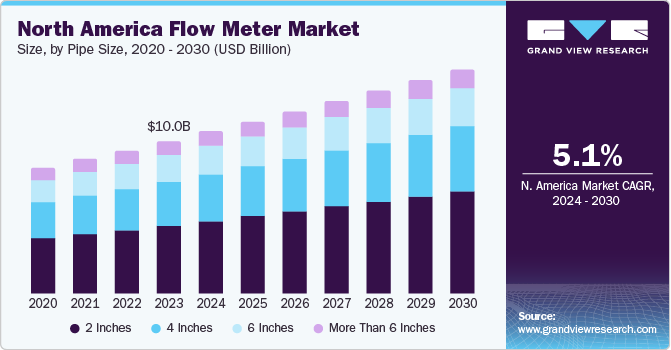 Rapid urbanization across developing countries in the Asia Pacific drives the need for adequate water and wastewater management and power generation. As a result, the demand for the product in water and wastewater application is expected to be high in the region. However, labor skill issues regarding operational processes of smart systems along with high initial costs associated with these advanced products are a few factors that could hamper the growth of the flow meter market. Similarly, the lack of adequate calibration facilities in the MEA region and the political instability in the region are factors affecting the growth of the regional market.
In the wake of the recent COVID-19 outbreak, there has been a significant disturbance in most industries across the globe. Industries such as oil and gas, chemicals, metals and mining, pulp and paper, and food and beverages globally have been adversely impacted in pandemic due to the disruption of the supply chain, closedown of plants, and a subsequent decline in demand for products offered by these industries. Similarly, the outbreak in its initial phase significantly impacted the overall market as these were less adopted by the abovementioned industries for the short term.
Flow Meter Market Segmentation
Based on the Product Insights, the market is segmented into differential pressure, positive displacement, magnetic, ultrasonic, coriolis, turbine, vortex and others
The magnetic flowmeters segment held the largest revenue share of approximately 25% of the total market share in 2020. The product has further been classified into wired and wireless magnetic flowmeters.
Ultrasonic and Coriolis segments are anticipated to witness a high growth rate exceeding 7.5% from 2021 to 2028. These flowmeters feature the integration of Internet of Things (IoT), leading to smart flow rate measurement solutions.
Differential pressure (DP) and positive displacement (PD) flowmeters are conventional products for measuring rates.
On the other hand, a magnetic flowmeter is ideal for measurement applications in sectors such as pulp and paper, petrochemicals, food and beverage, and chemicals and petroleum refinement owing to the reliability, accuracy, and cost-effectiveness of these meters. As a result, the magnetic segment is expected to gain a significant market share through 2028.
Product innovations such as two-wired and clamp-up products and wireless magnetic meters (also known as magmeters) have created additional opportunities for the adoption of magnetic flow meters. These systems are widely used in applications such as power generation, oil and gas, and water and wastewater management.
Based on Power Type Insights, the market is segmented into electric, solar and battery powered
The battery-powered segment held the largest revenue share of approximately 45% of the total market share in 2020. The solar power type segment is anticipated to witness a high growth rate exceeding 7.5% from 2021 to 2028.
Solar power systems are very effective in remote locations where regular power supply is unavailable; similarly, they are a clean source with fewer expenses. A solar power system primarily comprises the solar panel, battery, enclosure, and charge regulator.
Battery-powered systems are primarily used across the global market due to ease of use, portability, and rechargeable batteries. These rechargeable products are economical and are preferred for applications entailing high power. They have a low energy density, making them compatible with applications, such as handheld devices requiring compact battery size. These batteries are charged with high speed and less stress and provide a longer shelf life. They perform well under rigorous working conditions and are relatively low in cost.
Based on Pipe Size Insights, the market is segmented into 2 inches, 4 inches, 6 inches and more than 6 inches
The 2 inches pipe size segment held the largest revenue share of approximately 44% of the total market share in 2020 and is anticipated to witness a high CAGR exceeding 6% from 2021 to 2028.
The precise pipe size is most important for any product because a distorted fluid velocity profile (swirl) is one of the common reasons for product inaccuracy. Swirls or other distortions in the flow are caused by various connecting instruments such as elbows, tees, and valves.
To maintain accuracy and reduce flow distortions there are a few piping requirements regarding the profile of the fluids/materials passing through the system. If the length of the pipe is not precise, the materials (solid/liquid/gas) flowing through it may lose their characteristics (temperature, pressure, moisture, among others); and results in an inaccurate reading.
Flowmeter manufacturers and experts suggest specific pipe size requirements which vary based on flow meter technology and material (solid/liquid/gas).
Based on the Application Insights, the market is segmented into water & wastewater, oil & gas, chemicals, power generation, pulp & paper, food & beverage and others
The oil and gas segment is expected to emerge as the fastest-growing segment, registering a CAGR of 6.6% from 2021 to 2028 owing to the rapid growth of the industry. The development of shale gas reserves is also expected to boost the demand for the product in the oil and gas (O&G) and chemical and petroleum refinement sectors.
Flow meters are an effective solution to measure the rate of upstream and downstream processes, custody transfer, and liquid hydrocarbons within the O&G and chemical industries.
This has triggered the need for adequate power generation, water supply, and wastewater treatment. Moreover, with the increasing population, approximately 34.0 billion gallons of wastewater are processed per day in the U.S. alone, according to the Environmental Protection Agency (EPA).
Government investments in wastewater treatment plants are significant in the North American and European regions. As a result, the water and wastewater segment accounted for a share of around 24% of the total market and is anticipated to register a CAGR exceeding 6.0% from 2021 to 2028.
Based on the Regional Insights, the market is segmented into North America, Europe, Asia Pacific, South America, and Middle East & Africa
Europe dominated the market and accounted for over 35% of the global revenue share in 2020, followed by North America. In Europe, the adoption of systems is high in the power generation segment, contributing to the regional market growth. The demand for magnetic, ultrasonic, and Coriolis flow meters for O&G management is expected to increase in the region.
Europe is home to numerous manufacturers and providers of flow rate measurement products and solutions, such as Endress+Hausar AG, Krohne Messtechnik GmbH, and ABB Ltd. Therefore, Europe accounted for the largest market share in 2020, and this trend is expected to continue through the forecast period.
Some of the prominent market players in North America include General Electric; Emerson Electric Corporation; and Honeywell International Inc.; therefore, the region holds a significant market share in terms of revenue.
APAC is anticipated to witness a substantial CAGR exceeding 7% from 2021 to 2028. The market in India and China is expected to witness significant growth over the forecast period owing to continuous developments in the water and wastewater management sector.
Market Share Insights:
January 2021: Badger Meter, Inc. signed an agreement to acquire Analytical Technology, Inc., a privately held provider of water quality monitoring systems. The company was founded in 1992, headquartered in Pennsylvania, US and is specialized in the design, manufacture and distribution of water quality instruments based on electrochemical and optical sensors.
December 2017: Hitachi High-Tech Corporation entered into a strategic partnership agreement with Flutura Business Solutions Pvt. Ltd. (U.S.), an Industrial IoT company.
Key Companies Profile:
Companies are focusing on strategic geographic expansions through partnerships & collaborations and mergers and acquisitions. Industry players are continually investing in R&D to develop differentiated products and stay ahead of the competition. The report also includes a competitive landscape for a holistic understanding of the rivalry among the industry players.
Some of the prominent players operating in the global flow meter market are:
ABB Ltd.
Emerson Electric Corporation
em-tec GmbH
Endress+Hausar AG
General Electric
Hitachi High-Tech Corporation
Honeywell International Inc.
HÖNTZSCH GMBH & CO. KG
Krohne Messtechnik Gmbh
Siemens
Yokogawa Electric Corporation
Order a free sample PDF of the Flow Meter Market Intelligence Study, published by Grand View Research.
About Grand View Research
Grand View Research is a full-time market research and consulting company registered in San Francisco, California. The company fully offers market reports, both customized and syndicates, based on intense data analysis. It also offers consulting services to business communities and academic institutions and helps them understand the global and business scenario to a significant extent. The company operates across multitude of domains such as Chemicals, Materials, Food and Beverages, Consumer Goods, Healthcare, and Information Technology to offer consulting services.

Web: https://www.grandviewresearch.com
Media Contact
Company Name: Grand View Research, Inc.
Contact Person: Sherry James, Corporate Sales Specialist – U.S.A.
Email: Send Email
Phone: 1888202951
Address:Grand View Research, Inc. 201 Spear Street 1100 San Francisco, CA 94105, United States
City: San Francisco
State: California
Country: United States
Website: https://www.grandviewresearch.com/industry-analysis/flow-meters-market