Antibiotic Resistance Market To Reach $12.07 Billion By 2025, Due To High Burden of Antibiotic-Resistant Infections And Emergence of Multi-Drug Resistant Pathogens | Grand View Research, Inc.
According to a new report published by Grand View Research, among pharmaceutical companies, Merck, Allergan, and Pfizer were the key players with top-selling drugs in the antibiotic resistance industry in 2017.
Antibiotic Resistance Industry Overview
The global antibiotic resistance market size was valued at USD 7.81 billion in 2017 and is estimated to reach USD 12.07 billion by 2025, registering a CAGR of 5.6% during the forecast period.
High burden of antibiotic-resistant infections and emergence of multi-drug resistant pathogens have been augmenting the market. Pharmaceutical companies, such as GlaxoSmithKline, Johnson & Johnson, Novartis, and Sanofi, are at the forefront of the global pharmaceutical industry but are less actively involved in clinical development of antibiotics. Majority of large pharmaceutical companies find the market lucrative enough due to relatively slower growth in revenues for marketed drugs and lower return on investments. For instance, Novartis recently canceled all plans to continue with R&D for its antibacterial drugs.
Gather more insights about the market drivers, restrains and growth of the Global Antibiotic Resistance Market
On the other hand, there are several biotech companies including Melinta Therapeutics, Achaogen, and Nabriva Therapeutics that have undertaken the challenge of developing therapies for antibiotic resistance. Involvement of international organizations serves as a catalyst in developed markets. Funding bodies such as BARDA are supporting biotech companies with financial support to complete early stage development of their novel therapies for antibiotic resistant infections.
Manufacturers seek the Qualified Infectious Disease Product (QIDP) designation, which expedites the clinical review process and extends exclusivity period for new generation antibiotics of strong therapeutic value. The QIDP designation was introduced under the Generating Antibiotic Incentives Now (GAIN) Act, passed in 2012 as an extension to the U.S. Food and Drug Administration Safety and Innovation Act. The legislation aims to promote the development of new therapies for growing burden and severity of antibiotic-resistant infections.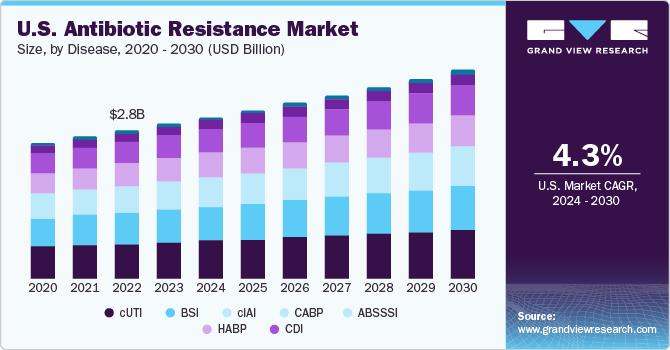 Antibiotic Resistance Market Segmentation
Based on the Disease Insights, the market is segmented into cUTI, cIAI, BSI, CDI, ABSSSI, HABP/VABP and CABP
cUTI represented the largest segment in the market in 2017 owing to high overall treatment cost and limited treatment alternatives for Gram-negative pathogens, which account for majority of infection cases. Lack of low-cost treatment options for Gram-negative infections limits access to recently approved branded therapies such as Allergan's Avycaz, Merck's Zerbaxa, and Melinta Therapeutics' Vabomere.
Antibiotic-resistant Gram-positive bacteria account for a larger number of infections by volume. However, due to availability of multiple treatment options including branded and generics drugs, the overall cost of therapy remains lower when compared with Gram-negative infections. Among gram-positive infections, MRSA accounted for the highest market share, being the primary causative pathogen for growing ABSSSI burden across the globe.
The ABSSSI segment is projected to command a sizeable share in the antibiotic resistance market throughout the forecast period.
Based on the Pathogen Insights, the market is segmented into acinetobacter baumannii, pseudomonas aeruginosa, staphylococcus aureus, e. coli/k. pneumoniae, streptococcus pneumoniae, clostridium difficile, enterococcus faecium and haemophilus influenzae
Infections due to K. pneumoniae pathogens that are carbapenem-resistant and ESBL-producing held the largest share in 2017. These infections pose treatment challenges for physicians due to high resistance to current treatment alternatives. These infections although fewer in terms of number of cases in comparison to Gram positive pathogens, they impose a high cost burden as physicians are increasingly shifting towards novel antibiotics such as Allergan's Avycaz and Melinta Therapeutics' Vabomere. CDI, on the other hand, is anticipated to register the highest CAGR during the forecast period.
Based on Drugs Class Insights, the market is segmented into oxazolidinones, lipoglycopeptides, tetracyclines, cephalosporins, combination therapies and others
Based on drug class, the market has been segmented into oxazolidinones, lipoglycopeptides, tetracyclines, cephalosporins, combination therapies, and others, which includes miscellaneous drug classes. Lipoglycopeptides are likely to command 17.0% of the overall market revenue by 2025.
The combination therapies segment, which comprises fixed dose combinations of beta lactams and beta lactamase inhibitors, is poised to experience the highest growth during the forecast period. High use of these therapies for gram negative infections that have limited treatment options is contributing to the growth of the segment.
Based on the Regional Insights, the market is segmented into North America, Europe, Asia Pacific, Latin America, and Middle East & Africa
North America was the largest region in terms of revenue in 2017. Numerous drug launches in the market and high treatment cost are supplementing the growth of the regional market.
The U.S. will be a key revenue contributor in the region during the forecast period as guidelines, such as those defined by IDSA for the treatment of CDI, are promoting the use of novel therapies.
Europe was the second largest regional market in the global arena in 2017, supported largely by growing number of antibiotic-resistant infections. Among the OECD countries, Greece, Italy, and Portugal were ranked as the top 3 consumers of antibiotics in the world, contributing to increased antibiotic resistance in the region.
Browse through Grand View Research's Pharmaceuticals Industry Research Reports.
Peptide Therapeutics Market – The global peptide therapeutics market size was valued at USD 39.3 billion in 2021 and is expected to expand at a compound annual growth rate (CAGR) of 6.4% from 2022 to 2030. The rising incidence of cancer as well as metabolic disorders such as osteoporosis, obesity, and diabetes will drive the adoption of peptide therapeutics during the forecast period.
Antibiotics Market – The global antibiotics market size was valued at USD 40.7 billion in 2020 and is expected to expand at a compound annual growth rate (CAGR) of 4.5% from 2021 to 2028. The rising prevalence of infectious diseases and supportive government legislation are the major drivers of the market.
Market Share Insights:
December 2018: Pfizer and GlaxoSmithKline announced a joint venture to create a premier global consumer healthcare company. This would help in creating a better platform for both companies.
October 2018: Nuzyra was approved by FDA. This drug is a tetracycline antibiotic used for treating adults with acute skin and skin structure infections (ABSSSI) and community-acquired bacterial pneumonia (CABP).
Key Companies Profile:
Large pharmaceutical companies are acquiring smaller entrants with novel antibiotics. The trend is expected to shape the future of the market. For instance, Pfizer acquired Astra Zeneca's marketed drugs, Zavicefta and Zinforo, and late stage antibiotics, ATM-AVI, resulting in an expanded portfolio of antibiotics. In addition, companies in the market target for higher market share through indication extension and geographic expansion strategies.
Some prominent players in the global antibiotic resistance market include
Pfizer
Merck
Allergan
Melinta Therapeutics
Achaogen, Inc.
Basilea Pharmaceutica Ltd.
Melinta Therapeutics
Tetraphase Pharmaceuticals, Inc.
Theravance Biopharma, Inc.
Wockhardt therapeutics
Entasis Therapeutics
PARATEK therapeutics
Seres Therapeutics, Inc.
Order a free sample PDF of the Antibiotic Resistance Market Intelligence Study, published by Grand View Research.
About Grand View Research
Grand View Research is a full-time market research and consulting company registered in San Francisco, California. The company fully offers market reports, both customized and syndicates, based on intense data analysis. It also offers consulting services to business communities and academic institutions and helps them understand the global and business scenario to a significant extent. The company operates across multitude of domains such as Chemicals, Materials, Food and Beverages, Consumer Goods, Healthcare, and Information Technology to offer consulting services.
Web: https://www.grandviewresearch.com
Media Contact
Company Name: Grand View Research, Inc.
Contact Person: Sherry James, Corporate Sales Specialist – U.S.A.
Email: Send Email
Phone: 1888202951
Address:Grand View Research, Inc. 201 Spear Street 1100 San Francisco, CA 94105, United States
City: San Francisco
State: California
Country: United States
Website: https://www.grandviewresearch.com/industry-analysis/antibiotic-resistance-market