ReliefChair Introduces Custom-Fit ErgoMesh Chairs For All-Day Sitting Comfort
ErgoMesh Chairs for improving back pain and sitting posture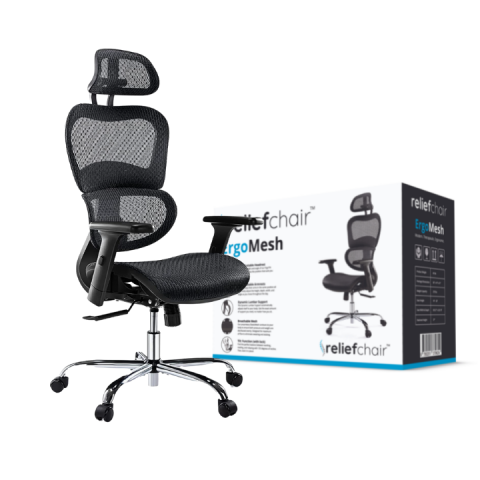 ReliefChair has penetrated the industry with its superlative ErgoMesh Office Chair designed to relieve back pain and improve body posture. Designed with a patented shape by in-house ergonomists, the ErgoMesh Chair is custom-made to support the spine's natural curvature and boost sitting comfort. It is perfect for relieving back pain, enhancing workstation positions, improving blood flow, and increasing productivity.
The company understands that remote workers and white-collar workers who sit in office chairs all day need to rest in the comfort of chairs without fear of health complications. Research has it that sitting for too long without practicing good posture increases the risk of chronic health complications such as heart disease, increased blood pressure, and abnormal cholesterol levels. On the basis of these concerns, ReliefChair adopts a proprietary three-part ergonomic system that imitates the natural curvature of the spine. This system aids posture correction and provides the back support needed to optimize work performance.
"At ReliefChair, we believe the key to our success is making an impact on the health and well-being of our customers. Every aspect of our chair was designed with our customers' physical health, mental health, and quality of life in mind. If you experience fatigue from sitting in front of the desk all day and suffer from back pain, neck pain, shoulder pain, or poor posture, then the ErgoMesh Office Chair by ReliefChair™ is perfect for you," said the company's spokesperson.
The ErgoMesh by ReliefChair is unique because it utilizes a proprietary Dynamic Lumbar Support system, which automatically adjusts itself to your body. It combines their ErgoTilt Headrest and 4D Adjustable Armrests to eradicate neck and shoulder pain and facilitate back pain relief. Due to its top-notch functions, the newly released ErgoMesh Office Chair has received thousands of 5-star reviews from satisfied customers across the United States.
According to user Justjc, "This is the most comfortable chair I've ever purchased, it's perfect for my daily needs of sitting in a chair for long hours, and it's a pleasure to sit now. Many different adjustment methods are available to suit every sitting position. The entire assembly process is very simple and can be completed in less than 30 minutes. It is highly recommended to start with this ergonomic chair."
In Stephanie H's words, "This is a really comfortable chair! The ergonomic support feels great on my back and is very comfortable to sit in. The mesh of the chair is also very comfortable because of how breathable it is. I've felt overheated in other office chairs, but I feel very comfortable sitting in this chair for long periods of time. I also like how adjustable the chair is to your preferences. The headrest tilts back and forth and moves up and down, and the back of the chair can be adjusted for recline and height. The armrests also adjust in a number of ways – they rotate in and out, slide back and forth, and can adjust up and down. This made it really easy to adjust the chair to not only feel comfortable for me but also fit under my desk. I do wish that the armrests had padding, but they're still very comfortable even without having padding on them. The wheels on the chair also make it easy to slide across the carpet."
For more information, visit reliefchair.com.
Media Contact
Company Name: ReliefChair
Contact Person: Will
Email: Send Email
Country: United States
Website: https://www.reliefchair.com/