Finland-based author and game designer Jakub Wisz launches a new sci-fi novel titled "Incitatus"
Finland-based author, game designer, professional swordsman and archer, Jakub Wisz, is proud to announce the launch of his new sci-fi novel, a thriller titled "Incitatus," sure to peak interest of fans of "Alien" and "The Expanse" franchises.
Jakub Wisz, an amateur astronomer and an avid fan of all things science fiction, wrote the novel to reflect his affinity for sci-fi and spiced it up with elements of action, conflicting interests, intrigue, and fear of the unknown to match.
Incitatus, published by Double Proficiency—an indie publishing house known from their incredibly successful Kickstarter campaign for "Herbalist's Primer"—is set in a near-future, hard sci-fi world of Aphelion. The story takes place in an era after humanity colonized the entire Solar System; a time when technology blurred the lines between humans and machines.
Speaking about his book, Jakub Wisz said: "It's a story about a young woman who defies her father in search of treasure among the stars. Shao has two choices: live and die the boring corporate life her father demands she live or go on an adventure searching for space pirate treasure. She hates her boring, corporate-driven spaceship pilot job. Living up to her father's vision for her hasn't been easy, but she's been a dutiful daughter. That is, until she discovers a data chip leading to a pirate treasure. Suddenly faced with a new path, she convinces her crew to ditch their corporate responsibilities to go on a treasure hunt instead."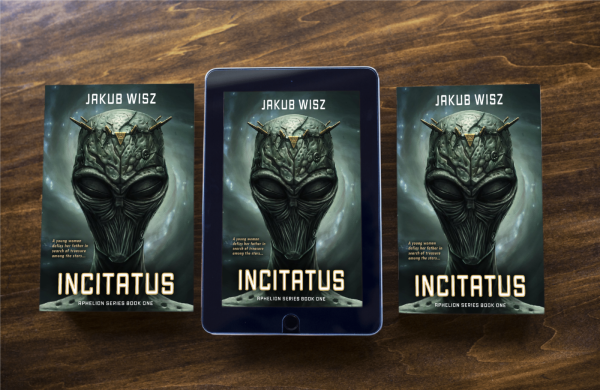 As the story progresses, Shao stands to lose everything she holds dear as she engages with forces beyond her knowledge. Her decisions will be her downfall and she'll have to make tough calls that'll forever alter her future and the lives of her crew.
The book is full of action, conflicting interests, intrigue, and fear of the unknown, both in the outside world and inside the human mind. From transhumanist themes to matters of love, individuality, and personal freedom, Incitatus is an engaging, exciting thriller.
The book premiered on 19th May 2022, and is now available in most online and local bookstores worldwide.
Media Contact
Company Name: Double Proficiency
Contact Person: Anna Bereza
Email: Send Email
Phone: +358 401272282
Country: Finland
Website: https://doubleproficiency.com