Stop by Booth #4152 at Automate Show in Detroit Starting June 6 for Best-in-Class AGVs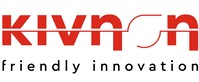 Kivnon USA, the leader in developing, designing, producing, and distributing automated guided vehicles (AGVs), will highlight the K11 HP and K03 AGV/AMR models during the Automate Show at Booth #4152 in Detroit, MI from June 6-9, 2022.
The K11 HP, an AGV/AMR model that is a solution for automating the transport of very heavy loads over long distances in bidirectional processes. This mobile robot has the power to move large loads and provides greater flexibility in the movement of materials within production or logistics processes.
The K03 AGV/AMR model is the perfect solution for automating the transport of medium loads in highly specific processes and work environments where space is tight. With the rotational lift table, this mobile robot can rotate on itself maintaining the absolute position of the load allowing greater flexibility of movement and minimizes the times of the operations.
Automate brings the greatest minds and solutions in automation together under one roof with 500 vendors from around the world with 250,000 square feet of exhibits featuring live demonstrations of products and systems that are solving industry challenges. Attendees will have access to over 20,000 decision makers from around the world—spanning 40+ industries and performing every type of application.
About Kivnon:
Kivnon offers a wide range of autonomous vehicles (AGVs/AMRs) and accessories for the transport of goods, using magnetic navigation or mapping technologies, that adapt to any environment and industry. The company offers an integral solution to customers. Kivnon products are characterized by their robustness, safety, precision, and high quality. Each product has been designed with a user-friendly philosophy creating a pleasant, simple to install, and intuitive work experience.
"Kivnon advises, installs, performs maintenance, and offers exceptional after-sales service. We consolidate our commitment to technological innovation and continuous improvement in all products," added Kotzian who can be reached on LinkedIn.
The company offers a wide range of mobile robotics solutions automating different applications within the automotive, food and beverage, logistics and warehousing, manufacturing, and aeronautics industries. Complete the 2022 ROI Kivnon AGV/AMR inquiry form. Follow Kivnon on Twitter @KivnonUSA.
Media Contact
Company Name: Kivnon
Contact Person: Rob Britt
Email: Send Email
Phone: (947) 228-1316
Address:37640 Hills Tech Drive
City: Farmington Hills
State: MI
Country: United States
Website: https://www.kivnon.com/