After 20 years of Holding Up Mirrors for Regent Graduates, Harrison Kramer Finally Gets The Recognition He Deserves
Harrison Kramer is an MBA Graduate of Regent University who is playing his part by giving graduates a 'final look' before taking their walk across the grand stage of accomplishment.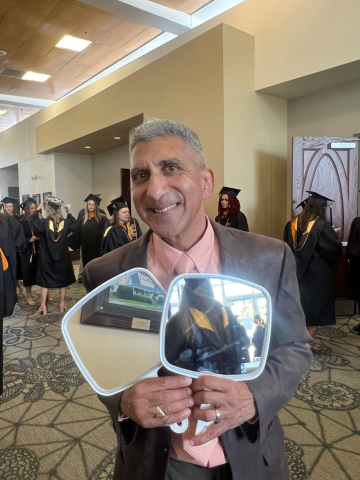 When Emily Beth decided to post a quick 5 sec TikTok of Harrison Kramer walking through the lineup holding mirrors and at her graduation ceremony, the world finally saw the incredible gesture that Harrison has been showing to new graduates for the past two decades. The video instantly went viral getting 2.5 million views in 48 hours.
In the clip, Harrison Kramer could be seen holding a mirror at Regent University's graduation ceremony for the graduates to get a 'final look' at themselves before walking across the grand stage of their academic accomplishments. He has been doing this for the last 20 years now, not as a parent but as a volunteer.
Later it was picked up and posted by Barstool Sports on their Instagram account where it has surpassed 35 million views.
At the time of writing this piece, his video has gained huge traction across social media:
• Barstool Sports TikTok – 6.4M views, 988.6K likes, 2309 comments, and 4932 shares
• Emily Beth – 2.5M views, 468.8K likes, 850 comments, and 2773 shares
• Barstool Sports Instagram – 35,671,653 views and 2,959,169 likes.
He has also been covered by major news outlets, including CBS news and CBN.
Harrison Kramer is an MBA Grad of Regent University and currently works on a trauma floor at SNGH in Norfolk.
Media Contact
Company Name: Michelle Wilson Media
Contact Person: Michelle Wilson
Email: Send Email
Country: United States
Website: www.youtube.com/channel/UCzz6q3k4RV7Riq0E6hdHPNA