Control Smart Wall-Mounted ERV With Wifi Function

Do people remember the times when you had to reach out to an appliance to control it or hunt for its remote behind cushions on under the furniture? Fortunately, time has changed! This is the era of smart technology. With WiFi, smart home automation has made our lives so much easier. The wall-mounted energy recovery ventilators(ERV) can be controlled via a single touch. Look at the WiFi ERV, the entire control plus multiple smart features are right in your phone! Smart Wall-mounted ERV make our day to day tasks convenient.
Nowadays, the indoor air quality had gained so much attention, especially after the COVID 19 event. Holtop Eco-clean Forest series wall mounted ERV has two version, one is CO2 control and the other is PM2.5 control. Both has the WiFi function, user can monitor the indoor air quality anytime anywhere via the APP called Smart life in your phone.
Control Your Smart Wall-mounted ERV With WiFi Function
In many regions and countries, the local governments had issued some regulations that demand buildings to have proper ventilation. But, for most old buildings, it is hard to add ducting system. In that case, the ductless wall mounted ERV is ideal to suit the installation demands of residential apartments. You can enjoy the clean and fresh air with less initial investment.
Unlike conventional energy recovery ventilator, smart energy recovery ventilator allow you to maintain your home temperature and humidity using a smartphone. Their functionality can be controlled via an app that you can download on your phone or tablet. Moreover, they can also be connected to smart home systems or voice assistants. The ability of a smart air conditioning system to connect to the internet and consequently other devices is what makes them smart. It's easy for you to equip your ERV with smart features for increased comfort!
While a smart energy recovery ventilator offers numerous benefits thanks to its ever-growing feature set, one amazing benefit is that it can save energy. With the high energy recovery efficiency, it can reduce the load on the air conditioning system by 40%, compared with introducing untreated fresh air into a building. Users can save electric bill especially the energy price is extremely high now.
A smart WIFI controller helps you save energy up to 20%. The controller allows you to set schedules for a week. The intelligent auto mode allows you to operate your ERV within the proper indoor air quality. The smart controller keeps you updated with air filter status and usage statistics.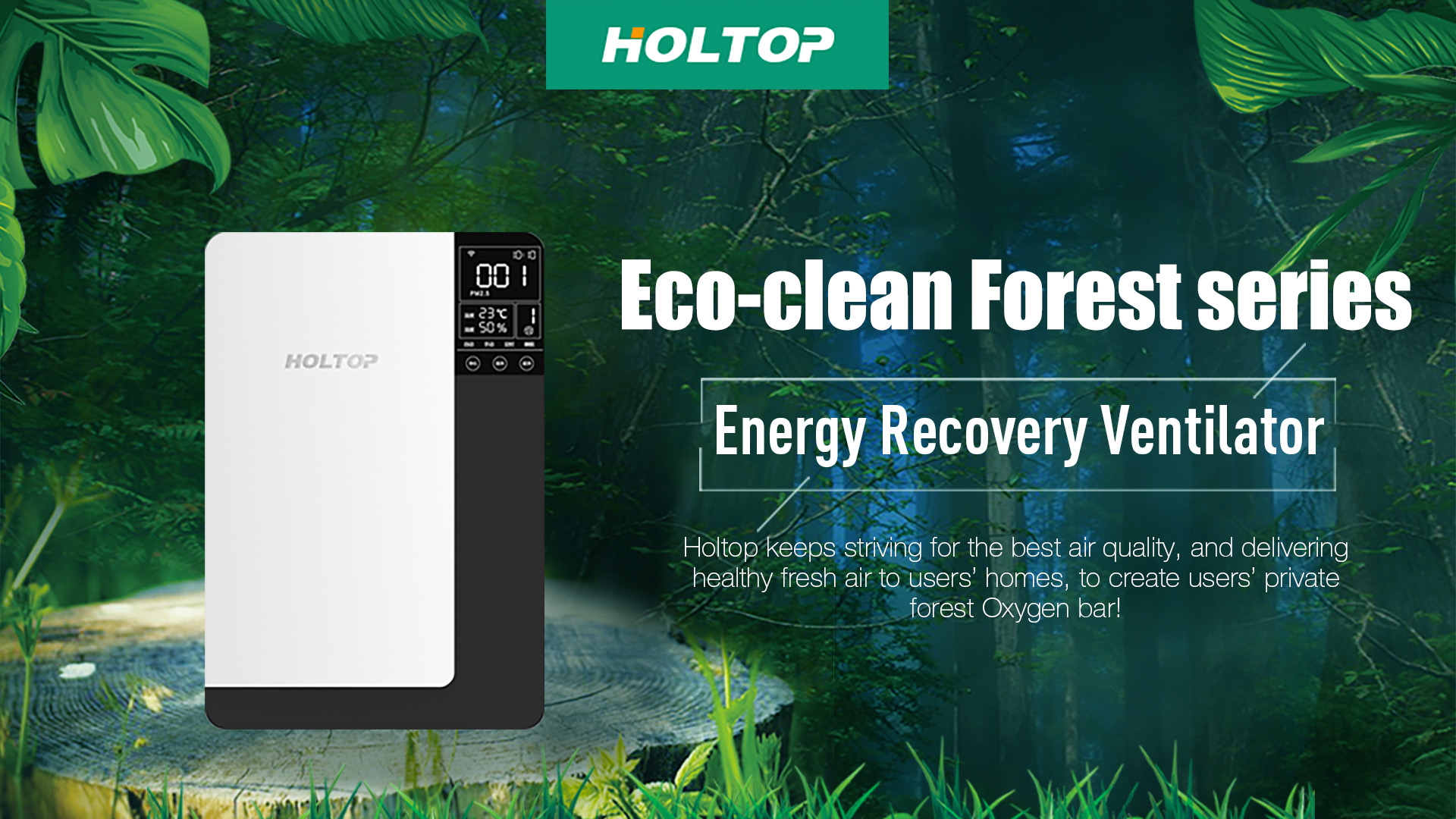 Features of a Smart Wall-mounted Energy Recovery Ventilator
– Easy Installation, do not need to do ceiling ducting
– With an enthapy heat exchanger, efficiency up to 80%
– Built-in 2 brushless DC motor, low energy consumption
– Multiple HEPA purification of 99%
– Indoor slight positive pressure
– Air quality Index(AQI) monitoring
– Silence operation
– Remote control
What Are the Benefits to Get a Smart Wall Mounted Ductless Energy Recovery Ventilator?
Wondering why you should invest in a smart energy recovery ventilator? Is it worth it? Smart energy recovery ventilators come with a number of benefits and features that give them an edge over conventional units. Here are some distinct advantages:
1. Monitor your ERV unit with WIFI Function at anytime anywhere
With a smart Wifi function, your ERV can be controlled from literally anywhere! Use wifi function to monitor your room's temperature, PM2.5 value or CO2 concentration, temperature and humidity at your hand for healthy living. If you're constantly reaching for the remote to change settings , you know you can greatly benefit from the convenience that a smart energy recovery ventilator showers on its users.
Moreover, if you forget to turn off your unit when you leave home, you can control the ERV at your smartphone at anytime anywhere. Of course, if you want to balance temperature and humidity of your room before you back home, you can turn on the ERV in advance.
2. Variable setting
It has several function via smart app, such as fan speed settings, filter alarm setting, mode setting.
There are too many functions to help you better control your ERV unit easily. For example, if you think the room temperature is hot and stuffy, you could set the fan speed via wifi function, when the room temperature is nice and cool, you could lower the fan speed. Also, for the mode setting, we have manual mode, sleep mode, auto mode and so on. Based on your situation to select the most suitable mode to let your room air clean and fresh.
3. Increased Efficiency
Imagine a hot, sweltering day! You just returned home from a grocery store trip or a delicious lunch at your favorite café. Unfortunately, if you aren't utilizing the benefits of a smart ERV, your home won't be as pleasant as expected upon your return. You'd need to crank up the ERV in full swing, wait at least 20-30 minutes to be able to control the blaring heat, and finally, you might achieve bearable temperature. It would still take a bit longer to achieve the perfect home atmosphere.
On the other hand, if your ERV knew that you are on your way home and it would take you around 20 minutes, things can be a lot different. Utilizing Smart WIFI function of ERV, you can turn on the wall-mounted ERV first to balance room temperature, then turn on the air conditioner to cool down your room temperature, which increased efficiency and save some energy. This would provide you the perfect temperature setting and efficient performance throughout the day!
With the advancement of technology, smart ERVs provide you with ultimate ease in maintaining the perfect home temperature. Now, WIFI function is available. Using app to monitor ERV's filter life, room temperature and relative humidity, PM2.5 or C02 value. Also, it could set SA Fan speed, EA fan speed, running mode of ERV, which is more convenient than before.
Follow us Youtube channel to get more information, PLEASE LIKE, COMMENT & SUBSCRIBE!
Media Contact
Company Name: Guangzhou Airwoods Environment Technology Co., Ltd.
Email: Send Email
Phone: +86-20-39141701
Country: China
Website: https://www.airwoods.com/