Eifrig Publishing launches children's books to teach emotional intelligence

Indie children's book publishing company, Eifrig Publishing, announces the release of new books to teach children the clinically proven Emotional Freedom Technique (EFT)
Lemont, PA – 31 October, 2019 – In line with the company's goal of promoting social and environmental consciousness while empowering children as they grow in their communities, Eifrig Publishing has recently published two books to help kids, and other readers, deal with different psychological issues using the popular EFT Tapping techniques. Titled "The Wizard's Wish" and "A Garden of Emotions," the books are particularly designed to help families get through stress with ease with the help of integrated QR codes that provide immediate access to the guided tapping videos.
The first book titled "A Garden of Emotions" aims to help readers, particularly children, handle their emotions effectively from a tender age. The increasing incidence of suicide, bullying, racism, and other psychological-related issues, as well as the impact of the opioid addiction on families, has made it imperative for parents and caregivers to teach kids how to deal with a wide range of emotions. This is where Eifrig Publishing is looking to make a difference, by providing readers with the tools to help them handle fear, anxiety, shame, anger, sadness, grief, and other emotional experiences, ultimately ensuring that they feel good about themselves.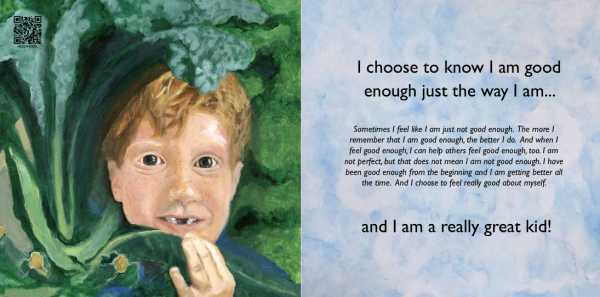 Illustrated by Deborah O'Connor and authored by Brad Yates, a leading EFT practitioner in the United States, the book contains beautifully painted and captivating illustrations that accompany each of the ten emotions, allowing for a more engaging conversation with kids about their feelings. A video addressing each of the emotions using EFT is also embedded into the page for instant access via a smart phone.
The forward for "A Garden of Emotions: Cultivating Peace through EFT Tapping" is written by Dr. Peta Stapleton, a clinical psychologist and professor in Australia who has done extensive research about the efficacy of EFT, further reiterating the comprehensiveness of the book.
"A Garden of Emotions: Cultivating Peace through EFT Tapping" has already started to receive accolades from all categories of readers and wellness practitioners. "I bought the book and right away my 5-year-old said, 'Oh, this is beautiful'. We read some pages and then used the barcode to see a video. We tapped together on 'I choose to have a good day'. My 4-year-came into the room and we decided to do another video so he could see and do one with us. As we started my 5 year old whispered to him… 'there a really, really good surprise at the end. You get a really great happy feeling,'" said Elle, mother of two boys.
"The Wizard's Wish" is another fantastic read, where Brad Yates teaches parents, guardians, and children about the EFT technique through an illustrated story, where a wizard discovers a safe, simple way to deal with uncomfortable emotions through the magic of your fingertips.
In line with the company's motto – "Good for our kids, good for our Earth, and good for our communities," Eifrig Publishing uses proceeds from the sale of the book provide free books to underserved communities to help get this tool into the hands of more kids. In a similar vein, the company is looking to partner with sponsors across the globe to provide free books to underserved communities through the non-profit, Random Acts of Reading.
For more information about Eifrig Publishing and its plethora of quality children's books, please visit – www.eifrigpublishing.com. The books are available on Amazon and Barnes and Noble, as well as on the publisher's website.
About Eifrig Publishing, LLC
Eifrig Publishing, LLC, was founded in 2006 by Penny Smith Eifrig of Lemont, PA, and Berlin, Germany, to create books that are good for the kids, the environment, and communities. Penny developed the company after being presented with one exciting manuscript to publish, followed by several others dealing with common parenting issues such as self-esteem, gender identity, and dealing with stress and anxiety. Eifrig Publishing, LLC, has gone on to become a leading resource for quality children's books that foster self-esteem, inclusivity, diversity, and kindness.
Media Contact
Company Name: Eifrig Publishing
Contact Person: Penny Eifrig
Email: Send Email
Phone: 888 340 6543
Country: United States
Website: http://www.eifrigpublishing.com/