The FedEx Foundation ready to 'positively' impact 50M people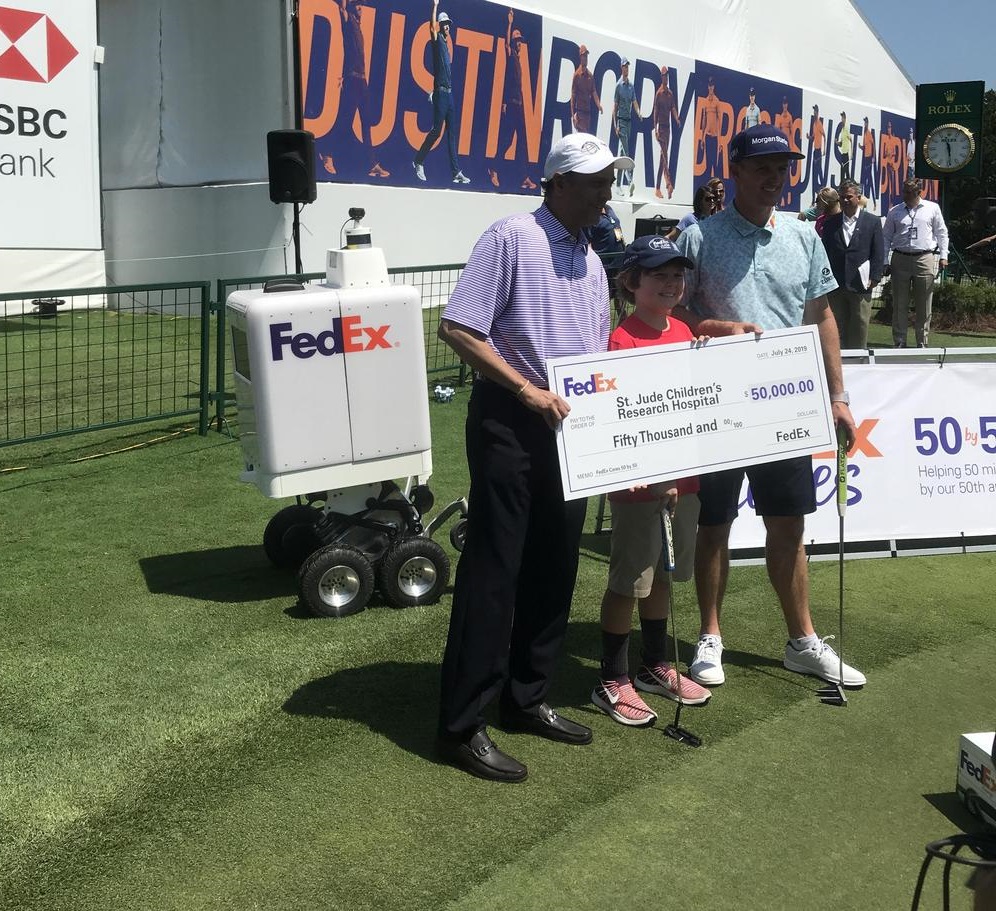 To positively impact 50 million people around the world by its 50th anniversary. That was the commitment The Fedex Foundation made July 24, at TPC Southwind, the site of the World Golf Championships-FedEx St. Jude Invitational. The FedEx Foundation's program is called "FedEx Cares 50 by 50," the global community engagement program is intended to deliver "hope, change, and new possibilities" to 50 million people by 2023.
The Fedex Foundation exceeded its last community engagement program, which was to invest $200 million in 200 global communities by 2020, six months early.
Raj Subramaniam, president and chief operating officer for FedEx Corp., was on hand Wednesday to make the announcement along with the 2018 FedExCup champion, Justin Rose.
In a post press conference interview with the Memphis Business Journal, Subramaniam said one of the great things about being at FedEx was the ability to do so many positive things and impact millions of people.
"What today's announcement does is make that come alive," Subramaniam said. "Fifty million people positively impacted by our 50th anniversary in 2023, that's a goal that is a very nice goal and is very fitting for FedEx, especially given our role in the global community."
Also as part of the announcement, Rose took part in a "Putting for Positive Impact" challenge where he had five attempts to sink a 50-foot putt. If he was able to put the ball in the hole, FedEx agreed to donate $50,000 to St. Jude Children's research Hospital.
With five missed attempts, Rose recruited the help of a 13-year-old St. Jude patient, Dakota, who was able to get the job done. The FedEx SameDay Bot "Roxo" then delivered the check.
Trending
Travel & Tourism: Mempho saw big national artists supported by a big corporate presence
Career & Workplace: See them now – MBJ's 40 Under 40, class of 2019
Coming Event: Digital Strategies to Grow Your Business Workshop
It was announced in April 2018 that the FedEx St. Jude Classic would transform into a WGC event. Less than a year later, the much-anticipated week has arrived. Subramaniam called it one of the biggest sporting events in the history of Memphis.
"It is wonderful to see so many of the top golfers here competing, and I think it elevates Memphis to a whole nother level — our home city," Subramaniam said.
Patrick Fitzgerald, senior vice president of integrated marketing and communications for The Fedex Foundation, noted the significance of being able to unveil the FedEx Cares 50 by 50 as part of the tournament.
"The level of media and attention and the international community — half of the golfers here have never played in Memphis," Fitzgerald said. "It is a global stage for us to be able to make this announcement and be able to really amplify the reach and the impact of it."
Media Contact
Company Name: The FedEx Foundation
Contact Person: Mark Smith
Email: [email protected]
Phone: 919-902-5798
Country: United States
Website: https://fedexfoundation.org