Five years after the success of his song 'High as me' Amiratti releases his new single 'What's the move' ft. MoNightz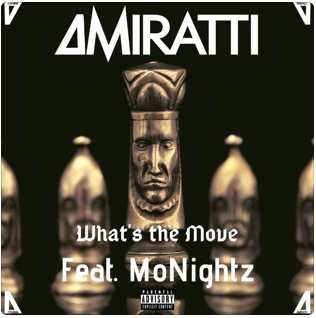 Amiratti AKA A-Plus, also known as 'Amir' amidst his friends and fans has released his new explicit song 'What's the move' ft. MonNightz, on major music platforms. This is his second single, that he released after a long gap of 5 years when he dropped his music video 'High as me' ft Krayzie Bone, Ray J & Ya Boy. High as me gained quite some popularity among the fans and has over 50 million views on YouTube. It's a Hip Hop and Rap song featuring a cool and high-quality production video that was liked by his fans. Amiratti is now making a comeback with his brand new single 'What's the Move' that features explicit lyrics and a groovy beat that sets the foot tapping.
Amiratti developed an interest in music in his early childhood and by the age of eleven, he was already applying the trials and tribulations of the music industry by learning to play many instruments. At the same age, he traveled to the United States, where he settled in Los Angeles California. He started his music career at the age of seventeen and drawn to the tunes that were hitting the American radio airways.
As Hip hop was finding its acceptance among pop and rock during that time "Amiratti", was drawn to hip-hop like most of the other kids in Los Angeles. His love of music pushed him to study and understand not only the lyrics of the up and coming LA rappers but also to study the layers of sounds that the music producers were using in their beats. His study wrapped his mind around different musical concepts and led him to produce his own fancy drum patterns that are still recognized and loved by his fans everywhere. His understanding of the elements and tools of the music and his off the cuff mixing of basic music beats with amazing elements set his music apart from the rest.
Amiratti's philosophy to a good piece of music is that it must have the right grooves and patterns which are essential elements for any kind of music. Since 2001, Amiratti has worked on numerous production projects with music artists and T.V. and Film production.
Watch the music video on YouTube.
Media Contact
Company Name: A-Plus Productions
Contact Person: Amiratti
Email: Send Email
Country: United States
Website: www.youtube.com/watch?v=LrCRo-mC7ig